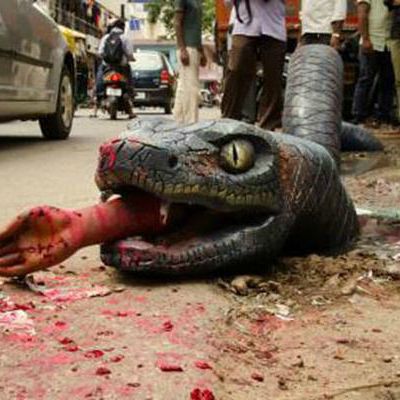 On Tuesday morning, people in
Bengaluru
were in for a shock when they saw a huge
anaconda
on the streets. Thankfully, it wasn't a real
snake
but another piece of
artwork
created to garner attention about the city's crumbling infrastructure. The structure was created by Namma Bengaluru Foundation (NBF), an activist organisation. Its CEO, Sridhar Pabbisetty, told
TheNewsMinute
: "There is humour, art, sarcasm in the craft, but more importantly, there is a deeper message in it that we are trying to deliver."
The "anaconda" got a lot of attention on social media and had the desired effect. The artwork took two days to complete and was made by Chitrakala Parishath graduate Pushparaj."There has been an overwhelming demand for anacondas and people are giving locations across the city for such installations," added Pabbisetty. The anaconda
comes two months after a crocodile was spotted
at another big pothole in the city.