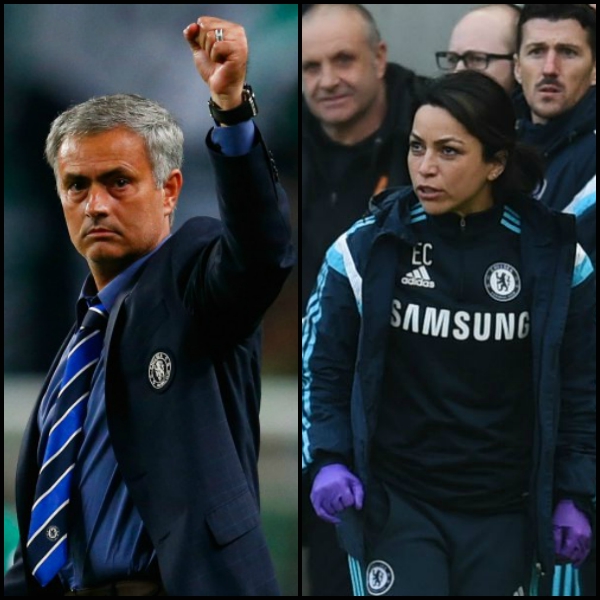 Jose Mourinho, manager of Premier League champions Chelsea, came under fire from medics on Wednesday for his public admonishment of team doctor Eva Carneiro.
Amid media reports that Carneiro's responsibilities at Chelsea would be scaled back after she rushed on to the pitch to treat an injury in a league match last weekend, the doctor received support from fellow professionals.
She is still the first-team doctor and will continue working with the squad but, according to the reports, is set to lose her place on the bench for Sunday's trip to Manchester City following criticism by Mourinho who suggested she did not understand the game.
Mourinho's behaviour towards the Gibraltar-born Carneiro was "absolutely appalling", Liverpool's former head of sports science Peter Brukner told Talksport radio. The Premier League Doctors Group also issued a statement to the Daily Telegraph, saying that removing the doctor from the team bench would be "unjust in the extreme" because she was doing her job properly.
While Chelsea did not comment, reports said Carneiro would no longer attend training sessions, matches or enter the team hotel.
The controversy centred on Mourinho's annoyance with Carneiro and her assistant Jon Fearn when they came on to the pitch to treat winger Eden Hazard in stoppage time during the 2-2 draw with Swansea City at Stamford Bridge on Saturday.
With goalkeeper Thibaut Courtois already having been sent off, Chelsea were down to nine men with the game still in the balance while Hazard was off the field after being treated.
An irate Mourinho, suggesting Hazard did not have a serious problem, said his staff were "impulsive and naive", unnecessarily putting the team in trouble with just eight outfield players.
Support for Carneiro came from different quarters after footage showed referee Michael Oliver had beckoned the Chelsea medics on to the pitch to treat the Belgium winger.
The Football Medical Association's chief executive Eamonn Salmon said: "The FMA fully supports the actions of our members and colleagues in this incident who acted with integrity and professionalism at all times, fully cognisant of the rules of the game and in full accordance with that duty of care to their patient".
The Premier League Doctors Group expressed "great concern" Mourinho had put out a message that results were more important than player well-being. "Dr Carneiro has universal and total support from her medical colleagues at the Premier League Doctors Group," their statement read.
Brukner, now doctor for the Australian cricket team, said: "The medical staff deserve a public apology and I'm very disappointed the club hasn't come out and done something to support them".