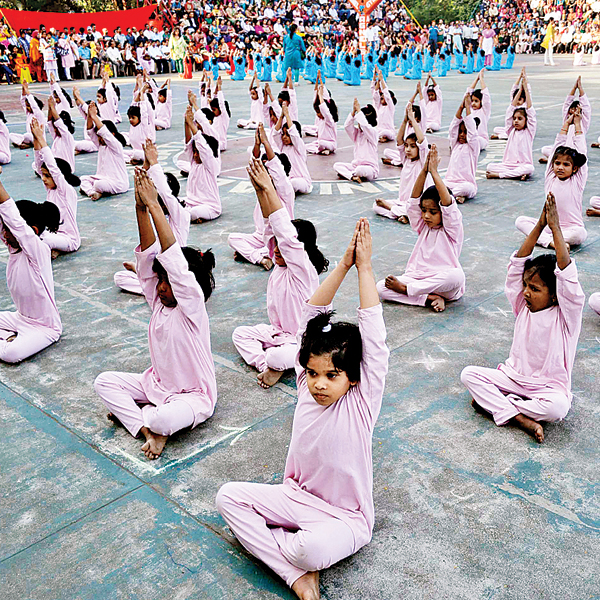 The day is not far when yoga practitioners would be competing for gold at the National Games! The ancient Indian physical, mental, and spiritual practice or discipline is about to take a big leap.
Prime Minister Narendra Modi-led Department of Personnel and Training (DoPT) has directed the sports ministry to incorporate yoga as a 'sports' event. Modi has already put yoga on the global map by announcing to hold the greatest spectacle on World Yoga Day on June 21.
In simple terms, yoga, which was basically a performing art, could now become a competitive sport in India, just as gymnastic is. The Yoga Federation will get recognition from the ministry and different age-group competitions would be held at future inter-state, zonal and National Games.
And what to talk of possibilities! At the 1990 Beijing Asian Games, Indian indigenous sport Kabaddi was included for the first time as a competitive sport and it subsequently received a huge boost in other parts of the world.
With yoga also being given 'sports' status, who knows if we can see it as part of major global events in our lifetime?
Though yoga has been part of the 'school and inter-varsity' curriculum for long, the ministry had, till now, never bothered to dwell on the issue of declaring it as 'sport'. After the DoPT diktat, files have started moving at an extraordinary pace.
The ministry, without much ado, has taken steps in this direction and has sought an opinion from the Department of Ayurveda, Yoga & Naturopathy, Unani, Siddha and Homoeopathy (AYUSH).
dna has learnt that the sports ministry is only awaiting an advice from AYUSH before declaring yoga as sport. This would certainly be a big boost to yoga followers/practitioners around the country as the demand for bringing it under 'sports' category has been pending for long.
"It's going to create millions of jobs around the country. And what better time than this, when India's initiative to have June 21 declared as World Yoga Day has been approved by the United Nations, and all those teachers will have an opportunity to get jobs as coaches in all governmental sectors," a senior ministry official said on Monday.
"Yoga as sport is a great idea. It is a healthy prescription for children used to sedentary lives," added the official.
Yoga, as a discipline, is between 3,000 and 6,000 years old and originated somewhere in the Indian subcontinent. It is, in fact, AYUSH's brainchild that, on June 21, PM Modi joins the huge crowd at the sprawling India Gate lawns for a 35-minute session. The organisers are hoping that more than 45,000 yoga enthusiasts would join PM Modi in this biggest single yoga-session.
AYUSH has also reportedly roped in celebrities like Amitabh Bachchan and Shilpa Shetty. Close to 11 lakh NCC cadets are expected to perform common yoga protocol across the country and 5,000 members of the armed forces will also participate in the mega event at Rajpath.