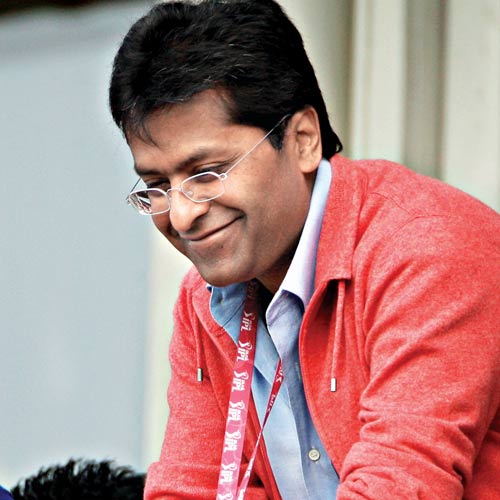 2005
Becomes the president of Rajasthan Cricket Association (RCA). Has backing of Chief Minister Vasundhara Raje Scindia.
November 29, 2005
Becomes one of the youngest BCCI vice-presidents. His rise coincides with the coming to power of the Sharad Pawar faction.
February 9, 2006
Oversees a broadcast deal for cricket in India wherein the BCCI controls the production.
September 13, 2007
The IPL. Modi becomes its convener. Makes it a clever mix of business and sports.
2008
The sale of eight IPL franchises fetches more than $720m.
July 30, 2008
After the BCCI turned down an offer to be part of an England-backed Champions League, the India-backed Champions League T20 is launched.
January 2009
The return of the Congress government led by Ashok Gehlot in Rajasthan coincides with a string of cases of funds misappropriation against Modi.
March 1, 2009
Loses the RCA election. But keeps his place in the BCCI because he is also a PCA vice-president.
March 24, 2009
Facilitates, on a short notice, the move of the IPL's 2009 edition to South Africa to avoid the clash with the general elections in India.
December 7, 2009
Loses the RCA election again.
December 2009
First suggestions of a rivalry between Modi and N Srinivasan, then the BCCI secretary. A strongly-worded letter allegedly written by Modi to Srinivasan over the appointment of match observers during the ODI series against Australia in October-November.
January 7, 2010
Chris Cairns announces his intention to sue Modi after the latter makes fixing allegations against the former New Zealand all-rounder in a tweet.
April 12, 2010
Announces on Twitter the ownership structure of the brand-new Kochi franchise in the IPL. Shashi Tharoor, a Central government minister from Kerala had to resign after it was found his wife Sunanda Pushkar had stakes in the team.
April-May 2010
Financial irregularities in the league emerge. Accused of of grave misconduct - fixing the auctions, creating slush funds, manipulating broadcast deals, plotting a parallel IPL working with English counties – Modi leaves the country. Srinivasan says Modi's replies to show-cause notices from the BCCI are unacceptable.
October 13, 2010
Enforcement Directorate (ED) asked Ministry of External Affairs to revoke Lalit Modi's passport, a move clearly aimed at his deportation from UK. ED also asked Mumbai Passport Office to seize his passport.
October 14, 2010
Enforcement Directorate issued a 'Look Out Circular/Notice' against former IPL Commissioner, Lalit Modi. Income Tax authorities had also issued notices and started investigations for serious financial bungling against Lalit Modi.
March 2011
The passport of Lalit Modi revoked by the Mumbai Regional Passport Office.
February 7, 2012
After sporadic strikes against the BCCI from the UK, Modi lets the big cat out of the bag. Accuses Srinivasan, who is the BCCI president now, fixed the auction of Andrew Flintoff in 2009. Flintoff was bought by Chennai Super Kings, a team owned by India Cements. Srinivasan is vice-chairman and managing director of India Cements.
March 26, 2012
Cairns wins the libel case against Modi, who is ordered to pay the damages - $142,000 - and cost - $2.4m.
January 16, 2013
The Delhi high court dismissed a petition filed by Modi seeking restoration of his passport. Along with a battery of lawyers led by U Lalit, Sushma Swaraj daughter Bansvri Swaraj also appeared on behalf of Modi.
May-June, 2013
Indian Government (UPA) asked the British Government for action against former IPL Commissioner Lalit Modi who had sought refuge in London, UK. The then Finance Minister, P Chidambaram, wrote two letters to Chancellor of Exchequer, George Osborne asking him for action against Lalit Modi and his repatriation to India for being tried under various offences including FEMA violations and other violations being investigated by Enforcement Directorate and the Income Tax authorities.
During his visit to UK in June 2013, P Chidambaram personally raises the matter for action against Lalit Modi with the Chancellor of Exchequer.
August 26, 2013
Swaraj Kaushal (husband of Sushma Swaraj) wrote an e-mail to Lalit Modi in UK seeking admission for his nephew Jyotirmay in Sussex University, UK.
August 29, 2013
Lalit Modi then wrote an e-mail to Keith Vaz, Labour Leader & MP stating that Smt. Sushma Swaraj had called him (Lalit Modi) for admission and that her nephew should be helped to get into the law programme at Sussex University.
August 29, 2013
Keith Vaz, Labour MP agreed to help.
September 2013
The BCCI disciplinary committee finds Lalit Modi guilty, a special general meeting is called, but Modi manages interim relief by procuring a stay order against the proceedings. The BCCI moves Supreme Court and gets the stay revoked. As soon as the SC turns down Modi's counter appeal, the BCCI announces the expulsion.
May 6, 2014
The return of Vasundhara Raje government in Rajasthan. Lalit Modi is declared the winner of the Rajasthan Cricket Association election. The BCCI - via its interim president Shivlal Yadav - responds immediately by suspending the RCA.
May 16, 2014
BJP government headed by Prime Minister Narendra Modi came to power. Sushma Swaraj inducted as External Affairs Minister.
July 31, 2014
British Labour MP Keith Vaz wrote to Ms Sarah Rapson, Director of UK Visas & Immigration Department asking for grant of travel documents to Lalit Modi. Following are the excerpts of contents of the e-mail:
"Foreign Minister of India (Sushma Swaraj) has spoken to me making it very clear that the Indian Government has no objection to the travel document being granted which is contrary to what the refusal notice has stated. Mrs Swaraj has also spoken to Sir James Bevan, who even though is on leave, said he will speak to the relevant person in the Home Office. Frankly everyone has been involved in this apart from Ban-ki-Moon."
July 31, 2014
Sarah Rapson wrote to Keith Vaz. Following are the excerpts of contents: "We are looking into this and will give you a proper update tomorrow."
Ist August, 2014
Sarah Rapson wrote to Keith Vaz and informed him about clearance of travel documents of Lalit Modi.
Lalit Modi wrote an e-mail thanking Keith Vaz with copy to Swaraj Kaushal (husband of Sushma Swaraj). Following are the excerpts of contents:-
"Thank you for putting all your might and help and sleepless nights in resolving this major issue which has taken us thru tremendous roller coaster ride." (---) "Roger and his team backed by just super star Keith Vaz with the support of numerous friends in India, Malta, Portugal, Virginia Waters, Tel Aviv, Lisbon, Lyon and some unnamed stars I cannot thank you enough. The sigh of relief I got even for a minute as I held the document before relinquishing to my Portuguese friends was sheer delight."
Keith Vaz, Labour MP wrote an e-mail to Lalit Modi. Following are the excerpts of contents:- "From the horses mouth! I will do a thank you we will need her (Sushma Swaraj) again."