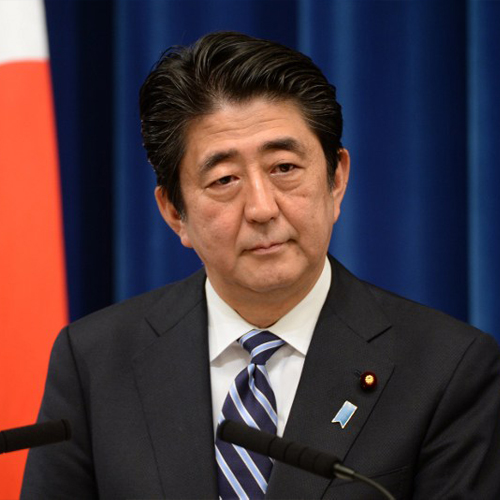 Japanese Prime Minister Shinzo Abe vowed during a historic first visit to Ukraine on Saturday to spearhead a global drive to resolve the crisis threatening to splinter the ex-Soviet state.
Abe told Ukranian President Petro Poroshenko on the eve of a summit meeting of the world's most economically advanced nations that he "resolutely" opposed a military solution to the conflict roiling the troubled country's separatist east.
His visit coincided with a sharp escalation in fighting that claimed the life of one more government soldier overnight. "Japan, as a country that next year will chair the Group of Seven, will do everything possible to find a peaceful solution to the problems facing Ukraine today," Abe said during a joint appearance with Poroshenko. The Japanese leader added through a translator that he respected Ukraine's "sovereignty, rule of law and territorial integrity".
The first official trip to Ukraine by a Japanese head of state comes as Tokyo's relations with Moscow -- already battered by a decades-old row over rights to a small chain of islands -- are experiencing still more strain.
Japan has contributed more than a billion dollars to a global rescue package for Kiev and blacklisted Russians it suspects of playing a key role in seizing Ukraine's Crimea peninsula last year. And Poroshenko is trying to mobilise top world leaders who meet in Germany on Sunday into crafting an even tougher response to what he sees is a clear attempt by Russia to either break up or at the very least severely damage Ukraine.
The embattled Ukrainian leader spoke on Friday to both US President Barack Obama and German Chancellor Angela Merkel -- an ally who together with French President Francois Hollande helped craft the truce now threatening to fall apart.
He is also due to host Canadian Prime Minister Stephen Harper later on Saturday. This week's flareup in fighting has killed around 30 Ukrainian soldiers and scores of civilians. The pro-Russian rebels rarely report their exact losses but have also admitted to suffering heavy casualties. Poroshenko called Abe's visit to Kiev of great "historic and symbolic value".
"We highly value Japan's resolute decision not to recognise Russia's annexation of Crimea," said Poroshenko. Russia angrily denies involvement in Ukraine's separatist crisis and argues that Crimea's residents had themselves voted to secede from Ukraine in March 2014.