His arrival comes at a rare moment of harmony in the island nation. The tour is the Pope's second Asian excursion, part of his outreach aimed at shoring-up the Church's presence in developing nations.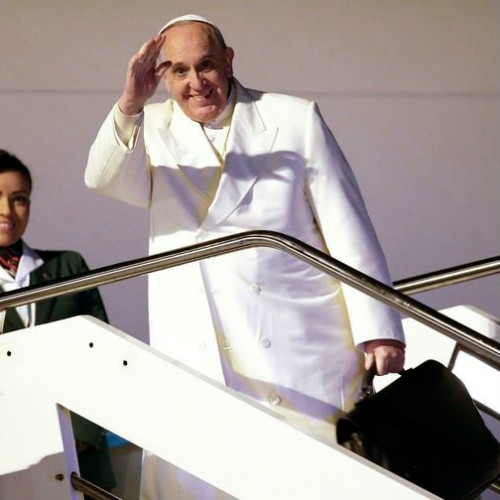 Pope Francis arrived in Sri Lanka on Tuesday to deliver a message of inter religious harmony that will resonate within the island nation recovering from years of ethnic conflict and across the world in the wake of the militant violence in Paris. The visit to Sri Lanka is the first leg of a January 12-19 tour.
The Pope is due to visit the mainly-Catholic Philippines before leaving on January 19. The tour is the Pope's second Asian excursion, part of his outreach aimed at shoring-up the Church's presence in developing nations.
Francis is the first Pope to visit Sri Lanka since the 2009 end of a bitter civil war that pitted mostly Hindu Tamils from the north against the majority Sinhala population, and his visit coincides with an election that defeated the wartime leadership.
Before his departure on Monday, Francis said the visit reflected his "interest and pastoral concern" for the people of the region. "To them and to their governments, I wish to voice yet again the desire of the Holy See to offer its own contribution of service to the common good, to harmony and social concord," he told diplomats at the Vatican.
President Maithripala Sirisena, who took office on Friday, has promised to end a period of growing repression of religious minorities under the defeated government that saw rising Buddhist violence against Muslims. The decade-long rule of former President Mahinda Rajapaksa also witnessed isolated attacks led by hardline Buddhist monks against churches and other Christian centres. Catholics make up about 7% of the population.
The Pope's visit will cap a historic week for the Indian Ocean island nation, especially for Catholic Sri Lankans who were already celebrating the demise of a government they viewed as antagonistic and increasingly authoritarian. "We are blessed to see the representative of God visiting Sri Lanka. This is a good opportunity to show that Sri Lanka is not a Buddhist extremist country, which was proven in last week's election," said government employee H. Mendis, 49.
Not everybody is pleased about the Pope's visit, with some nationalists close to the last government demanding that Francis apologise for alleged abuses at the hands of Portuguese colonialists. Francis will canonize Joseph Vaz, who re-established the Church in Sri Lanka in the 17th century after it was crushed by Dutch Calvinists. He will also visit Madhu, the main Catholic pilgrimage site in Sri Lanka. Madhu is in a region that saw some of the fiercest fighting in the war and that is still rarely visited by senior foreign dignitaries, despite rapid peacetime redevelopment.
For More update Please visit
http://uversenews.blogspot.in