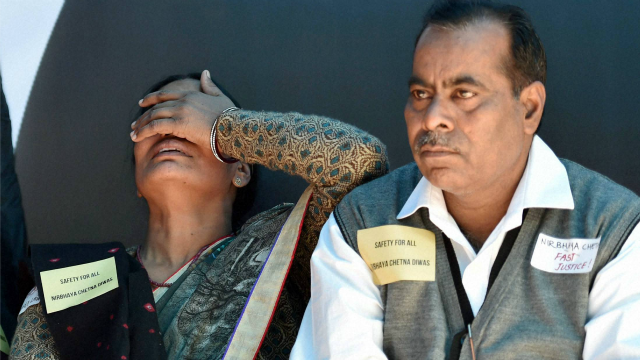 Juveniles aged 16 years and above will now be tried under laws for adults for heinous crimes as Parliament on Tuesday passed a much-expected bill in this regard against the backdrop of a juvenile convict being released in the gangrape-cum-murder case of December 2012.
The Juvenile Justice (Care and Protection of Children) Bill, which provides for lowering the age for trial from 18 years, was passed by Rajya Sabha with a voice vote after a walkout by Left parties which wanted it to be sent to a Select Committee. The bill was passed by Lok Sabha earlier.
Replying to the debate on the bill, Women and Child Development (WCD) Minister Maneka Gandhi said the legislation was a "nuanced" one and was much needed to act as a "deterrent". She said the incidents of heinous crimes by juveniles of the age of 16 years and above were on the rise and cited statistics to support her contention.
Allaying concerns expressed by members about the implications of the proposed legislation, Gandhi said it was "not against children but rather provides for, protects, nurtures and keeps them safe."
While CPI(M) members led by Sitaram Yechury staged a walkout demanding that the Bill be sent to a Select Committee, most of the other parties including Congress welcomed the passing of the legislation.
The bill was taken up against the backdrop of uproar over release of juvenile convict in the heinous gangrape-cum-murder of a 23-year-old girl on December 16, 2012. Parents of the victim have said that the convict could escape after spending three years in a correction home only because the law is weak.
Parents of the December 16 gangrape victim today welcomed the passage of the long-pending Juvenile Justice Bill saying that it will deter juveniles from committing such crime against women even though they rued that their daughter has been denied justice.
"Although we are satisfied that the amendments have been passed as these will help victims of heinous crime get justice, there is grief that our daughter Jyoti was denied justice. The juvenile convict who was the most brutal was set free despite our repeated pleas and demands," said the mother Asha Devi outside Parliament.
"This was a good thing that happened. Our efforts at least produced some results. By releasing the juvenile convict in this case, authorities had given out a wrong message but the new law will deter juveniles from committing heinous crimes against women," said the father, Badri Singh Pandey.
The parents watched the proceedings from the visitor's gallery in Rajya Sabha throughout the day as lawmakers debated the bill.