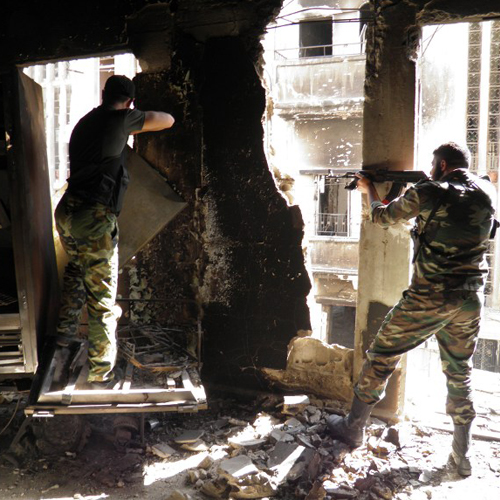 Images and video footage allegedly showing trucks belonging to Turkey's state intelligence service carrying weapons to rebels in Syria were published today in a Turkish daily.
The Turkish government has vehemently denied claims that it is arming rebels fighting in Syria and accused dozens of prosecutors, soldiers and security officers involved in searching the trucks of attempting to bring it down through such claims.
Earlier this month, Turkey arrested four prosecutors who ordered the search of the vehicles near the Syrian border in January 2014 and they are now in prison pending trial.
More than 30 security officers involved in the interception also face charges including military espionage and attempting to overthrow the government.
The footage published on the opposition Cumhuriyet daily's website on shows inspectors searching a metallic container watched by security officers, a prosecutor and sniffer dogs.
The officials first open cardboard boxes marked as "fragile" and full of antibiotics. But under those boxes they find dozens of mortar shells, the video, shot by an anonymous bystander, appears to show.
Cumhuriyet, which also published a series of still images, said the weapons were of Russian origin and had been supplied from ex-Soviet countries.
The daily claimed the trucks were carrying a total of 1,000 mortar shells, 80,000 rounds of ammunition for light and heavy weapons as well as hundreds of grenade launchers.
Hours after Cumhuriyet's report, an Istanbul prosecutor announced the opening of a criminal investigation into the daily on charges of "terrorism".
He also called for a ban on publication of the images that he said "are contrary to reality".
A judge in Turkey's largest city acceded to this request by ordering their immediate withdrawal on the internet, the Turkish press reported.
Government earlier claimed the trucks were carrying humanitarian aid to the Turkomen community in Syria and President Recep Tayyip Erdogan branded the interception "treason"