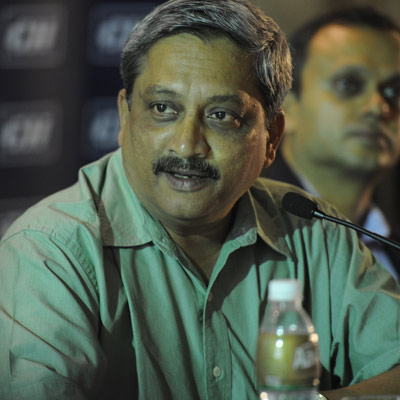 Union Defence Minister Manohar Parrikar on Monday said that it is evident that the men on the Pakistani boat, which sank after being intercepted near the India- Pakistan maritime boundary, were suspected terrorists.
Speaking to reporters, Parrikar said, "I think they were suspected terrorists as they committed suicide, a normal boat even carrying drugs can surrender. The location was not normal sea route, even the smugglers normally take the busy route so that they can mingle with boats. Why would smugglers keep in touch with Pakistan Maritime authorities?"
He further added, "Indian Coast guard has done right job at right time based on intelligence inputs. My interpretation is that Pakistan is trying to divert attention after what happened in Peshawar."
A day ago, Congress asked the government to "come clean" on the Pakistani boat issue and explain "which terrorist organisation" was behind the episode that unfolded on the high seas. However, BJP hit back at Congress and accused the opposition party of advocating the cause of terrorists.
However, hitting back at Congress, BJP accused the opposition party of advocating the cause of terrorists and being soft on terror due to its "vote-bank politics".
In a midnight operation off the coast of Gujarat, a Pakistani fishing boat said to be carrying explosives was intercepted by the Indian Coast Guard before it exploded and caught fire and sunk with four crew members on board.
The incident, which occurred on the intervening night of December 31, 2014, and Jan. 1 some 365-km off the Porbander coast, is being regarded in some quarters as being reminiscent of the 2008 Mumbai terror strike.
However, there has been no official confirmation of that conjecture with the Defence Ministry merely stating that the boat from Keti Bunder near Karachi "was planning some illicit transaction" in the Arabian Sea.
Meanwhile, a search is underway for the wreckage of the mysterious boat - which exploded after being hunted down by the Indian Coast Guard in the Arabian Sea -- as also the bodies of its four occupants, which will be crucial for investigators to reach a conclusion about their intent.