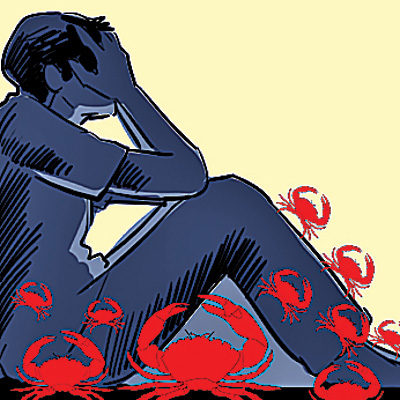 A cancer patient in his early 50s committed suicide by jumping from fifth floor of BSES Hospital building where he was undergoing treatment on Saturday. According to the doctors, he was operated for advanced recurrent mouth cancer and was suppose to be discharged on Saturday itself. Though no suicide note has been left, police assume he was fed up of the disease and treatment.
However, the suicide is a chilling reminder to how depression in chronic
illness
patients is ignored in the country, say experts.
The National Crime Records Bureau's 2013 figures show that illness accounts to 19.6% of major causes of suicides. It is also the second leading cause of suicides in India.
On an average, more than one lakh persons are committing suicides every year in the country during the decadal periods (2003 – 2013). The number of suicides during 2003–2013 has witnessed an increase of 21.6% (1,34,799 in 2013 from 1,10,851 in 2003). Maharashtra ranks 9th among states in reporting higher share of suicides due to illness. The state reported 24.5%
committing suicide
due to illness.
While analysing the figures,
psychiatrists
say chronic diseases like cancer, tuberculosis brings along fear and depression among patients. While in other countries psychiatric counselling to the patients is given a lot of importance, back home it patients are a neglected lot generally.
Dr Vasant Mundra, psychiatrist at PD Hinduja Hospital, Mahim said, "Chronic illnesses have various consequences and limitations like on financial limitations, limitation in terms of work, relationship, sexual behaviour.
Several aspects of life get compromised in chronic illness. Medications too lead to a change in the brain chemistry. This results in a lot of patients developing emotional disorder varying from adjustment disorder to suicidal depression to total psychotic."
According to studies, 1/4th of the general population will develop some or the other psychiatric disease at some time or the other in life. Dr Heena Merchant, secretary of
Bombay Psychiatric Society
said, "Psychiatric counselling is very important for terminally, chronic and prolonged illness patients. In several countries they have multi-disciplinary teams to manage the illness and psychiatrists are part of the team. Considering this percentage, one in two chronic illness patients will require professional help. It is extremely important for the
doctors
to be aware of psychiatric problems in chronically ill patients and be able to pick up early signs."
Dr Harish Shetty, senior psychiatrist at Dr LH Hiranandani hospital-Mumbai too said: "Both patient and his/her family need psychiatric counselling. Family support and good counselling helps cancer patient fight the disease bravely. Corporate hospitals also have their support group of patients where the group shares each other's problem as well as ways to deal with them. But it is unfortunate that not all chronic patients receive that kind of attention and psychiatric complications can be missed."