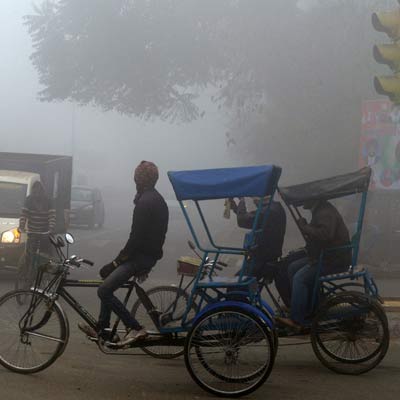 Most parts of North India continued to be in the grip of a severe cold wave-cum foggy conditions on Friday, throwing normal life out of gear, as road, rail and air traffic was disrupted.
The minimum temperature in national capital New Delhi early this morning was seven degree Celsius, one notch below normal.
According to the Met department, the cold wave will continue for some more days and there will be dense fog in some places in the city.
Visibility on Friday was reduced to 500 meters.
Northern Railway confirmed that 52 trains are running late, while two trains have been rescheduled.
The Met Department has said there will be clear skies with a maximum temperature of around 12 degrees Celsius.
In Uttar Pradesh capital Lucknow, there was a sharp decline in minimum temperature. It was pegged at around five degrees Celsius.
So far, 160 people have died due to cold wave conditions in the state.
Fog has disrupted the rail and road traffic across the state, and normal life remains stalled.
Fatehpur, Unnao, Jaunpur, Saharnapur and the Terai region are said to be the worst affected by the cold wave.
In Jammu and Kashmir, the minimum temperature dropped to about two degrees Celsius in most places.
Many water bodies, including the famous Dal Lake are partially frozen. Srinagar, the summer capital of Jammu and Kashmir recorded a minimum temperature of minus 4.2 degree Celsius last night.
Kargil registered a low of minus 16.6 degree Celsius.