Prime Minister Narendra Modi on Saturday kicked off the cleanliness drive at Assi Ghat in Varanasi and nominated nine prominent personalities of UP including Chief Minister Akhilesh Yadav and cricketer Suresh Raina to take ahead cleanliness drive further.
Modi also said that various social organizations have assured that entire ghat will get cleaned within a month. But the officials in Varanasi municipal corporation told The Indian Express that the silt could be removed from the ghat only if at least 1000 labourers work there daily upto next six months.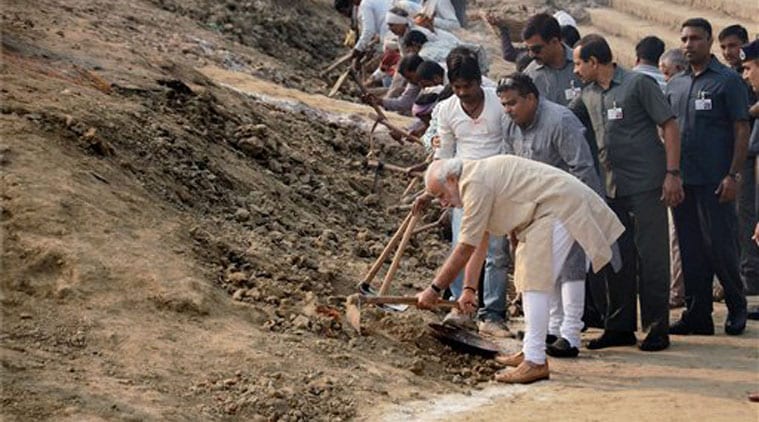 The other seven persons who have been nominated by Modi to lead the campaign include cricketer Mohammad Kaif, who had contested Lok Sabha election on Congress ticket from Phulpur had lost election to BJP candidate Keshav Prasad Maurya, BJP MP and Bhojpuri singer Manoj Tiwari, TV actor and comedian Raju Srivastava, singer Kailask Kher, Padmashree Professor Devi Prasad Dwivedi, author of 'Krishna Ki Atmkatha' Manu Sharma and Chancellor of Handicapped University of Chitrakoot Jagatguru Rambhadracharya. Modi has appealed these nine persons to take ahead the cleanliness campaign and ask each of them to nominate nine other persons for the same cause.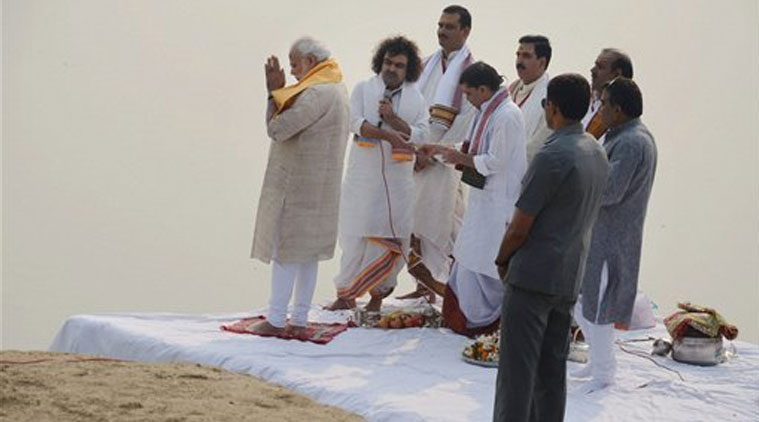 Modi announced these names after starting cleanliness campaign at Assi ghat and removed silt using spade. Modi removed silt for nearly six minutes in presence of other BJP leaders and officials of district administration. Modi said, "The drive to clean this ghat has started today and various social organizations have assured that the entire ghat will get cleaned within a month. I have nominated nine members to continue the campaign as I had done same while launching the drive in Delhi." Earlier, Modi reached the ghat at 8:40 am and offered prayer to Ganga in presence of six priests who recited mantras for PM.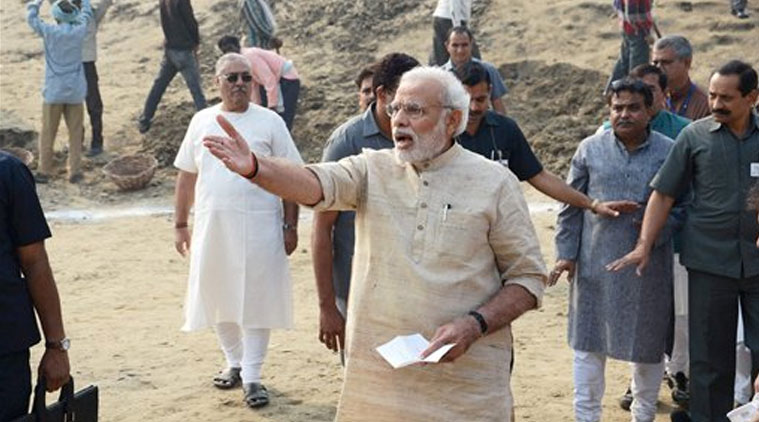 Assi is the only ghat where silt is lying but it was cleaned from other municipal waste because devotees had to prayers there on Dev Deepawali on two days back. Modi later visited Mata Anandmai Hospital in Shivala Bhadeni area and garlanded statue of Mata Anandmai there. Then he moved to airport to leave for Delhi.