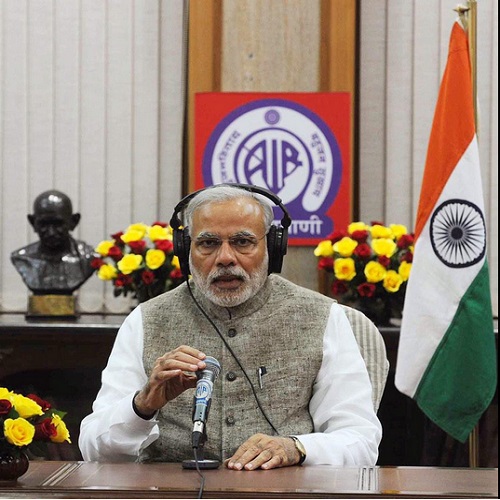 PM Narendra Modi on Sunday addressed the nation in his eighth edition of 'Mann Ki Baat'.
PM Modi started his speech with a note to the students who have just received their CBSE results across the country.
He said, "CBSE exam results are out. I congratulate those who have passed the exams. Those who couldn't, I say success and failure are part of life, you must not let go of this failure, you must learn from it. It's important that you realise your potential, capabilities and choose your path based on that."
Addressing the farmers, PM Modi said he is delighted to launch Kisan TV Channel.
PM Modi said, "These days there are dedicated channels for various things like news, entertainment, cartoons and sports. But Kisan TV Channel is close to my heart because I can see the country's future clearly on this. The channel will have the farmer as a teacher as well the student. The channel will educate on how to improve productivity and better your farming skills. There will be shows even for the fishermen. Along with agriculture and irrigation, animal husbandry can also contribute to economic growth of country."
PM Modi went on to speak about the International Yoga Day that is scheduled to be celebrated on June 21st.
"The world knows 21 June as the 'longest day' in the year. But now it has become an important day in our lives. Last year, while addressing the United Nations, I put forth a proposal of 'International Yoga Day', which was passed in 100 days through support of 177 nations."
He further added, "We know that Yoga connects heart to our head. But yoga can also connect all the countries in the world, and I would request our countrymen to come forward and lead the world in the field of Yoga."
PM Narendra Modi also made sure he addressed the on-going controversial subject of One Rank, One Pension.
"I want to tell the Indian Army, those who are constantly protecting the country, and even those who have retired from this field, that my government will definitely implement the One Rank, One Pension scheme."
Criticising the previous governments over the One Rank One Pension scheme, PM Modi said, "Others only talked about it for 40 years. They stopped this scheme from being implemented for various reasons, including political. But my government has been constantly working on it to simplify it. Different departments are dedicatedly working on this scheme and I assure you One Rank, One Pension for armed forces personnel will be implemented soon."
"We haven't given any constant updates on the development of One Rank, One Pension cheme to the media. It is not some running documentary. But I assure you as soon as we took over government, we have been working on it. It is true that it is not as simple as I had predicted, but I promise you my government will do anything for those who are ready to give up their lives for the nation."
PM Modi went ahead to promote tourism in India. He asked the listeners to send him pictures of their tours across India with the hashtag #IncredibleIndia.
He said, "Send me pictures from your summer vacation trips with the hashtag #IncredibleIndia. I will share the pictures I liked with others."
He ended his addressal by asking everyone to take precautions against the deadly heat wave. He also requested them to not only take care of themselves but also birds and animals.