Taliban claims responsibility for Kabul attack that killed six, while five schoolchildren reportedly dead in coalition air strike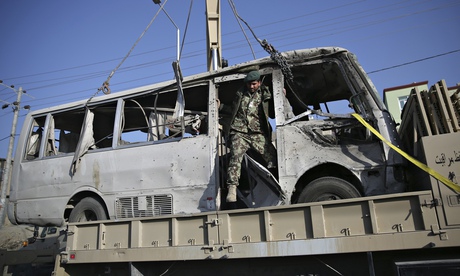 A suicide bomber attacked a bus carrying Afghan army personnel, killing six soldiers and wounding 11 on the outskirts of Kabul, the defence ministry said.
Five Afghan schoolchildren were also reported killed in an air strike by foreign forces, according to local officials. The international coalition had no immediate comment.
Thursday's bombing came after a two-week lull in Taliban attacks in Kabul in the wave of bombings on guesthouses, government officials and vehicles of foreign aid workers in the heavily guarded capital last month.
Taliban insurgents have stepped up their attacks in recent months in Afghanistan with deadly suicide and roadside bombings as most foreign troops prepare to leave the country after 13 years of war.
Dawlat Waziri, deputy spokesman for the Afghan defence ministry, said a bomber on foot targeted the bus in the Tarakhil area of eastern Kabul early in the morning when the army personnel were on their way to work.
"Unfortunately, we lost six soldiers and 11 others were wounded in the suicide attack," said Waziri.
The Taliban claimed responsibility for the attacks and said 12 officers were killed and 13 others wounded. Taliban insurgents often exaggerate casualties they inflict on national and international troops.
Meanwhile, five Afghan students were killed in a foreign forces air strike in northern Parwan province on Wednesday, Mohammad Zaman Mamozai, the provincial police chief, told Reuters.
The International Security Assistance Force (Isaf) did not immediately respond to questions on the incident.