Kuala Lumpur : A young boy in love with himself. Durban 2009: The boy in a hurry to grow. Dominica 2011: The struggler anointed as a leader. And now in Australia, where he has landed as India's Test captain, he will have his tryst with self-scripted destiny.
Dav Whatmore saw the potential in Malaysia within couple of meetings, Ray Jennings spotted the desire early in South Africa and Harbhajan Singh saw a leader in West Indies when he could so easily have seen a distressed youngster struggling to come to terms with Test cricket. And soon, Indian cricket will officially enter the age of Kohli. It's just for one Test now but it seems a mere matter of time before Kohli starts owning the role. "I love being the captain," Kohli said on the evening he left for Australia and one suspects, it's a feeling that he has nurtured for a long time now.
Whatmore, the nomadic coach of our times, remembers being startled by the young Kohli's "articulateness" and "desire" in 2008. Kohli wasn't the first choice to be the Under-19 captain that year. It was Uttar Pradesh's left-hand opener Tanmay Srivastava who suddenly had to give way to Kohli. Whatmore still remembers the young Kohli at the nets. "It was in the practice sessions that I immediately noticed this great desire and intensity in the boy. He always wanted to be in the thick of action. There was energy about him."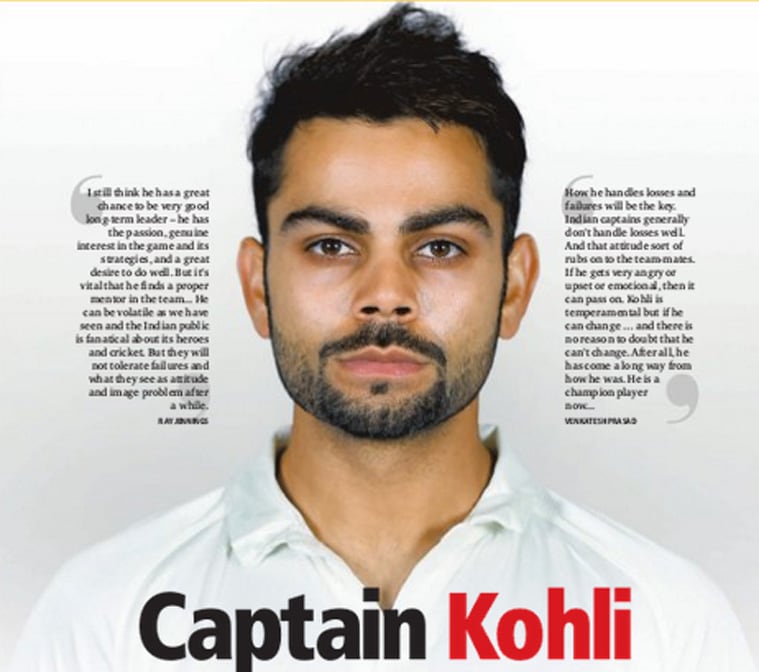 Frequently, as seen over the next few years, that energy would push him over the line. At the core lay a self-absorbed boy who knew the world could be his for the taking. Those traits began to pop up here and there on the cricket field. Even in that U-19 tournament, Whatmore remembers he had to reign in the kid at times. Simple stuff, like bowling himself even before the specialist bowlers. "We had to have couple of meetings about stuff like that, when he should bowl, when he shouldn't; how he sets an example for his team-mates …one could see that it was just over-enthusiasm at times."
Early success can get to the head of the best of men and here was an immature lad, who had lost his father, trying to make a sense of the world around him. Meanwhile, things were unfurling at a rapid pace in his life. It was in Kuala Lumpur that he got the news that he was picked for the IPL by the Royal Challengers Bangalore, a franchise owned by the flamboyant Vijay Mallya, the self-crowned "king of good times". Kohli's reaction was typical of a zeitgeist kid. He was flushed that he was heading to the kingfisher 'party' team.
It's in that party team that he met Jennings, a tough old-school coach, who saw a future India captain in him if he could curb the "shortcomings in his character". "He is a very talented kid but sometimes thinks he is better than the game," Jennings says.
In his own school-masterly way, Jennings has done his bit, trying to introduce small course-corrections. Kohli has listened a few times, rebelled on occasions and on the whole, has remained his own man. According to Jennings, it was Kohli who pushed for a change of coach in the IPL team. Jennings had to go. He says Kohli never really had a word with him on the reason but he thinks it's because he perhaps pushed Kohli a lot more than anyone did. "People generally don't like being questioned and pointed out their shortcomings but I knew what I did was for his, and the team's, well-being. But as a captain, he has the right to work with the people he is comfortable with and I have no complaints.
"I still think he has a great chance to be very good long-term leader of India – he has the passion, genuine interest in the game and its strategies, and a great desire to do well. But it's vital that he finds a proper mentor in the team set-up," says Jennings. "He can be volatile as we have seen and the Indian public is fanatical about its heroes and cricket. But they will not tolerate failures and what they see as attitude and image problem after a while."
Shades of KP
Kohli is someone, like Kevin Pietersen, who has the tendency to individuate himself and create a crowd of others. Jennings sees the advantages and the negatives in it.
"He has a fierce desire to lead by example which is good. But this is a team game, and being out of limelight, and allowing the others their own glory, when things aren't going right for him personally is something else. It's what separates mere captains from great leaders." Jennings doesn't have any particular incident to show as evidence of this trait in Kohli; it's just something that he believes Kohli should be alert to in future.
The reaction to failure is something that others who have worked with Kohli in the past are keenly watching out for. Venkatesh Prasad is gung-ho about Kohli's future as a captain but says the longevity will be determined by how he reacts to the losses, that are bound to come his way.
"How he handles losses and failures will be the key. Indian captains generally don't handle losses well. And that attitude sort of rubs on to the team-mates. If he gets very angry or upset or emotional, then it can pass on. Kohli is temperamental but if he can change … and there is no reason to doubt that he can't change. After all, he has come a long way from how he was. He is a champion player now; it's just that if you ask me what area of concern I have, I shall say this — the reaction to the failures. Not just of his but to others' failures. And I can tell you, after having played under and watched several Indian captains, it's a special trait that unfortunately not many Indian captains have had."
On a related note, the nature of Test cricket will throw another stern test at Kohli. It stews on a slow boil and demands a lot from the captain.
Some like Dhoni have been seen to be almost too placid, allowing things to meander. Some like Tendulkar have been overly attached to one idea, to a piece of strategy, let it fester for too long and not gone for course-correction soon enough. Some like Lara haven't had the patience and have instead tried too many things too quickly. Both Tendulkar and Lara were such exceptional batsmen that they couldn't quite adjust to the relatively lower level of performances of the others. Unlike them, Kohli isn't a prodigy. He is just a good batsman who has almost willed himself to be a very good batsman. He doesn't have that burden of genius and perhaps, won't have the trappings that come with it. It will be interesting to see how Kohli operates.
Reality check
Perhaps, in hindsight, as a preparation for India captaincy, last year's IPL failures as a captain and his recent batting debacle in England can only help. Hopefully, if he wasn't before, he can now be a touch more accommodating, and understanding, with other's failures. For a man who seemed to have started to swagger even before he learnt to walk, those failures can be a necessary reality check. A gentle reminder not to get too ahead of himself. In fact, not too long ago, he had talked about the lessons he learnt from the IPL debacle.
"Most certainly my captaincy has (matured) because previously if we lose – losing certainly hurts, I hate losing, every competitive person hates losing – and it should hurt but it should not annoy you or drift you away from what you have to do on the field and take your focus away. That's very important and it's a job of coach and captain primarily to keep the team together and I now understand that. Because if you show panic at the top post then the guys are obviously gonna scatter around and not play as a unit." Now is the time to walk that talk.
There are other concerns that emanate from his temperament. A former selector, part of the panel who anointed Kohli as a vice-captain, believes exciting times of success lie ahead of Kohli and his only concern is the probability of burn-out that high intensity can at times lead to. "Kohli's success has been his intensity. We have seen that even while batting, and of course even in fielding. But to play five days of Test matches, match after match in a series, with that kind of intensity can get scary for a captain. It can tire him out and lead to wrong decisions in strategy. Being the best batsman in your team is one thing, but to combine it with being the captain takes a lot of energy and mental poise.
"If he can move, temperamentally i.e, somewhere between where he is now and say Dhoni, it would be perfect."
The incumbent captain Dhoni never really had a young team to take along in Tests. By the time the seniors faded out, he was no longer young. Kohli, though, will get a team of like-minded men as evidenced in the recent endorsement from Umesh Yadav.
"It's definitely a different atmosphere under Virat. He's like one of the guys," Yadav had said couple of days ago. "Since Dhoni bhai is such a senior player we are always a bit reserved around him. With Kohli it seems chilled out. You can be frank about stuff."
Now that Kohli is where he always wanted to be, his real test begins. In these times of turmoil, with fixing issues and a captain who is likely to quit captaincy after the World Cup, Indian cricket needs Kohli the batsman and Kohli the captain. It can even afford to lose the captain, but not the batsman.
Kohli is someone who always knew where he was heading. One remembers a room by the sea in Dominica in 2011, where the final Test of a series was being played, and Kohli was in midst of a horror initiation to Test cricket. He was absentmindedly remote-pressing his way across the TV, when one left the room with Harbhajan Singh, who suddenly turned around at the door, pointed out to Kohli and said that boy will be the next captain. The next day when one brought up that reference to Kohli, his eyes lit up in happiness but fascinatingly, there was no surprise in them.