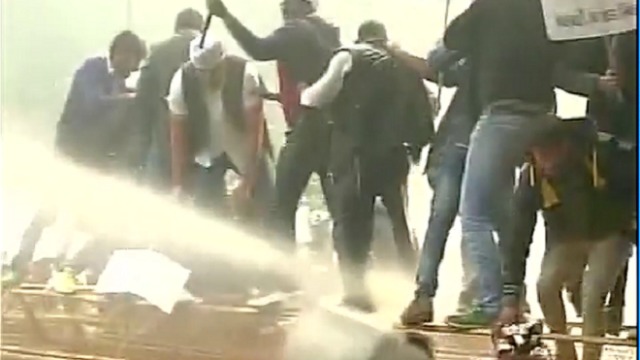 Aadmi Party (AAP) on Wednesday escalated protest against Union Finance Minister Arun Jaitley demanding his resignation over the alleged irregularities in the Delhi and District Cricket Association (DDCA).
The protest march to Jaitley's residence was stopped by the police at Tughlaq Road here.
The protestors were seen holding placards and shouting slogans demanding Jaitley's resignation. Later, police used water cannon to disperse.
Meanwhile, Minister of State for Information and Broadcasting Rajyavardhan Singh Rathore said Delhi Chief Minister Arvind Kejriwal talked about ushering in politics of no corruption, and yet he kept a corrupt man close.
The Finance Minister has filed a criminal defamation suit against Arvind Kejriwal and five other AAP leaders. AAP has sought three weeks time from the Delhi High Court to respond to the defamation suit.
In a strong show of support for Jaitley, Prime Minister Narendra Modi said the Finance Minister will come through "with flying colours" against charges of corruption levelled against him by the opposition in a same way L K Advani did in the Hawala case.