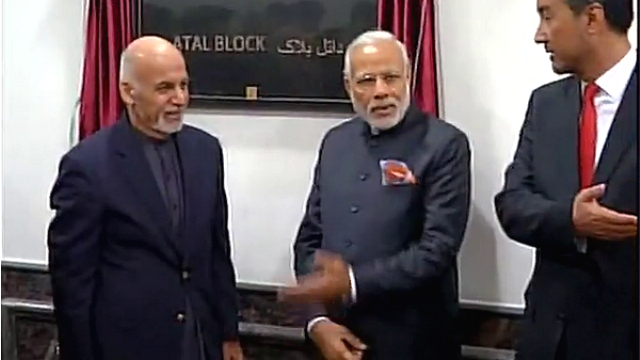 Prime Minister Narendra Modi arrived in Kabul on Friday morning, a day after signing 16 major agreements in Russia. The Prime Minister will inaugurate Afghanistan's Parliament building, which has been built by India.
The PM's day-long visit, his first to Afghanistan, since taking office - was not officially announced for security reasons, says NDTV, with several specific threats against Indian targets being received and some being foiled.
Modi will address a joint session of the two Afghan Houses in the new Parliament complex.
The Parliament building project was started by India in 2007 as a mark of friendship and cooperation to help rebuild Afghanistan after the wars.
PM Modi and Afghan President Ashraf Ghani are expected to issue a joint statement after holding talks. PM Modi is also expected to meet former Afghan President Hamid Karzai.
India has invested around $2 billion in aid and reconstruction in Afghanistan and trained scores of officers.
India delivered three of four Russian Mi-25 helicopter gunships to Afghanistan on Thursday.