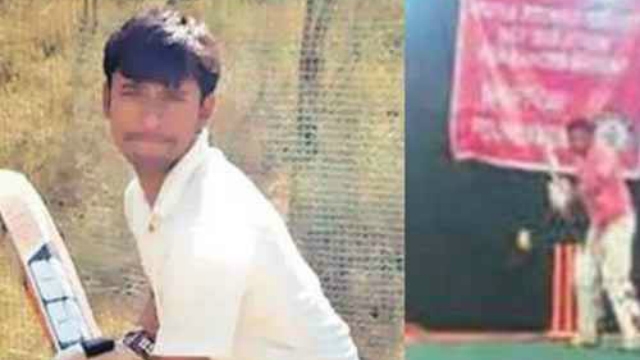 Virag Mare, an amateur cricketer from Latur, has broken the Guinness world record of the longest net session on Thursday, say media reports.
Batting for three days and two nights at a stretch, the 24-year-old Pune-based amateur cricketer broke the Guinness record of the longest individual net session.
Mare batted for 50 hours beginning December 22. Playing at the Mahalaxmi Lawns in Karve Nagar, he faced 2,447 overs i.e. 14,682 balls, in exactly 50 hours, 5 minutes and 51 seconds.
The previous record of 48 hours was set by English duo, Dave Newman and Richard Wells, and none other than British PM David Cameron had cheered them on.
But Mare had no such luck. He batted against both an actual bowler and a bowling machine. He first batted 5 hours at a stretch before taking a 25-minute break. By Wednesday, exhaustion meant he had to take a break every hour or so.
Around the halfway mark to the record, Mare thought of giving up. But his father had traveled from his village to watch him break the record, which Mare says egged him on.
"I don't have words to express my emotions. The reason why I am able to talk merely 2-3 hours after I broke the record because I love this game. I had worked really hard to fulfill this dream," Mare told Indian Express.
"We had thought of crossing the 15,000 balls mark. But he was already very tired. It would've been wrong to stretch him beyond his limit," said Ramdas Potale, his friend and organiser of the event.
Mare had actually joined Sachin Tendulkar's coach Ramakant Achrekar's academy at the age of 16, but had to drop out due to his inability to pay the fees. He then shifted to Pune and began to run a vada pav stall.
But he never lost his passion for cricket, and has now created a world record that will be very difficult to break.