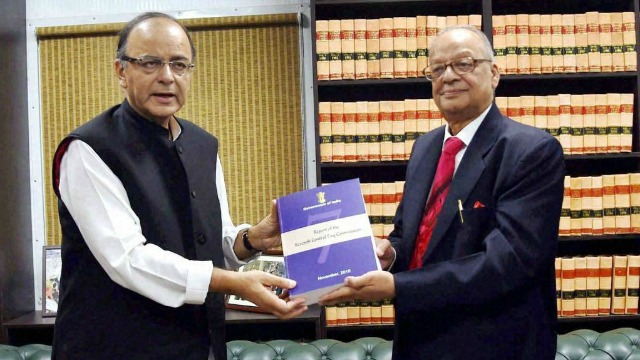 Five states have asked the Narendra Modi government to go slow on the implementation of the Seventh Pay Commission's recommendations, says a report in Indian Express.
The five states are West Bengal, Tamil Nadu, Punjab, Uttar Pradesh and Odisha. These states have asked for more time before being able to absorb pay hikes as recommended by the Commission, due to their financially delicate situation.
"There are several states who have approached the Prime Minister's Office, Cabinet Secretary and Niti Aayog, seeking more time in implementation of the Seventh Pay Commission's report," said a government official to Indian Express.
The Seventh Pay Commission, headed by Justice AK Mathur, submitted its report to the government last month, recommending 23.55% overall hike in pay, allowances and pensions of government employees with effect from January 1, 2016. This means the Centre's salary bill will increase by Rs 1,02,100 crore in 2016-17.
"Punjab's finances are under stress and the burden of the Pay Commission's recommendations will certainly have an impact… Our officials have informally taken up the matter with the Centre," confirmed Punjab Finance Minister PS Dhindsa.
"Normally they (states) adopt the Centre's recommendations. This is the normal procedure, but it certainly depends upon their (states') financial health. Some of the states have not even implemented the Sixth Pay Commission's recommendation," Justice Mathur told The Indian Express.
"Some of the states may have suggested (delayed implementation) to the government, but I don't think the Government of India is in a bad position," he said.
When contacted, Odisha's Additional Chief Secretary (Finance Department), R Balakrishnan said: "At this stage, we don't want to comment on it."
The West Bengal government has set up its own Pay Commission to determine the hike. It is expected to be on the same lines as enumerated by the Centre.
Meanwhile, the Union finance ministry has set up an implementation cell for processing and implementing accepted recommendations of the Seventh Pay Commission.