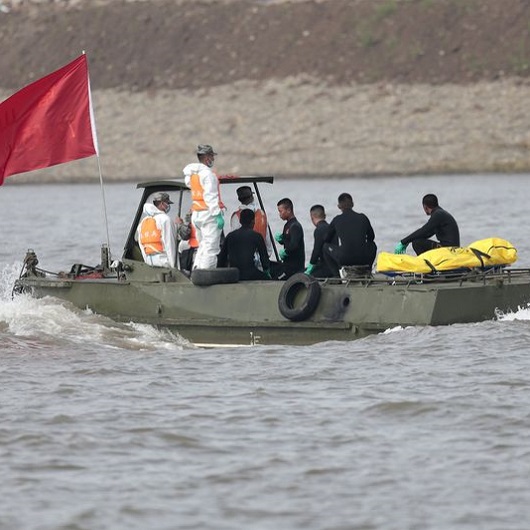 The death toll on Saturday rose to 345 in China's cruise ship capsizing as rescuers found hundreds more bodies after lifting the sunken boat and putting it in normal position from the mighty Yangtze River.
The fate of over 100 people still unknown in what could be the country's worst maritime tragedy in 70 years.
The death toll rose to 345, state-run Xinhua news agency reported.
The cruise ship with 456 passengers and crew on board which capsized on June 1 has been hoisted from the river after rescuers righted it yesterday.
Fourteen people survived the capsizing. Most of the tourists were elderly people.
The decision to right the upturned ship and hoist it above water was made after divers' efforts in the past three days to comb through the ship for survivors went in vain.
The Eastern Star capsized quickly after it was reportedly caught in a freak tornado on Monday night in Jianli in central China's Hubei Province.
The survivors were included the Captain and chief engineer who swam to the shore.
Over 1,200 relatives of the passengers gathered here to pay homage to their dear ones.
Officials of are conducting the DNA tests to hand over the bodies.
Authorities have said the chances of finding anyone still alive were "slim".
The ship was on an 11-day trip along the Yangtze when it overturned in Jianli in central China's Hubei Province due to a freak tornado.
Authorities have been struggling to tackle public fury, with clashes between the relatives of the people on board the ill-fated ship and officials.
Angry relatives have also clashed with police earlier this week.