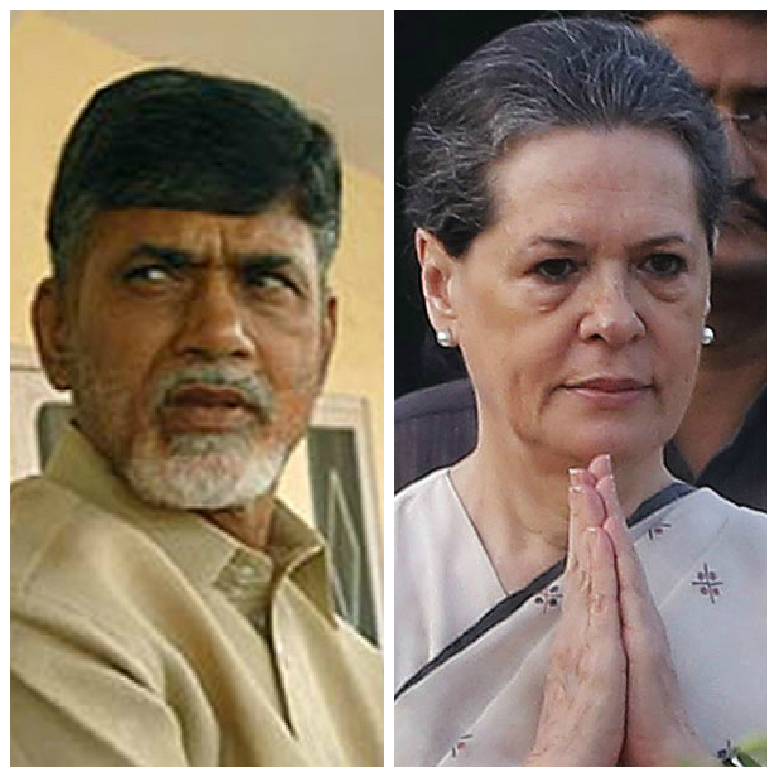 A political slugfest on Monday erupted after a taped conversation between Chandrababu Naidu and an MLA surfaced in connection the cash-for-vote scam, with Congress demanding the Andhra Pradesh Chief Minister's resignation and TRS daring him to take a lie-detector test even as Naidu denied it was his voice in the tape.
Under attack over his alleged bribe offer, Naidu accused his Telangana counterpart K Chandrasekhar Rao of conspiring against him and called Congress President Sonia Gandhi a "betrayer" for dividing Andhra Pradesh. Naidu alleged a conspiracy against him and said he has led a life of integrity all along.
"We demand the resignation of Andhra Pradesh Chief Minister Chandrababu Naidu. When a scam of such magnitude has come to the fore, why is the BJP and the Prime Minister keeping mum?" Congress spokesperson Shobha Oza said.
She alleged that both the TDP and TRS were resorting to "unconstitutional means" to stay in power. Oza also targeted Telangana's ruling TRS saying a probe is required in the wake of a host of allegations against TRS government including that of snooping and phone-tapping.
She said that a judicial enquiry must be initiated by an Supreme Court judge in the scam and Naidu should step down as Chief Minister before the probe starts to ensure an impartial investigation.
Telangana IT Minister K T Rama Rao challenged Naidu to take a lie-detector test on live TV. "I am ready, if Chandrababu Naidu is ready. We will both take a lie detector test on live TV. He should appear before the world on whether he has indulged in corrupt practices. Those guilty will have to come before public," Rama Rao said.
Adviser to AP Government Parakala Prabhakar said, "It is a very serious matter. The so-called tape does not contain Andhra Chief Minister's conversation. It is a doctored tape.
It is not the voice of Andhra Pradesh Chief Minister." BJP, however, maintained a cautious approach with Union Minister Bandaru Dattareya saying, "An inquiry is being held.
Let the report come out first, only then will I respond. Let the reports come, talking about it beforehand will not be proper." The Andhra Pradesh chief minister was caught in a row in the wake of some news channels airing an audio recording of a purported conversation Naidu had with a nominated legislator seeking his vote in the Legislative Council elections.
Meanwhile, in a fresh twist in the cash-for-votes scam, Andhra Pradesh police have registered a case against Telangana Chief Minister K Chandrasekhar Rao over the alleged illegal tapping of the phones of Naidu.