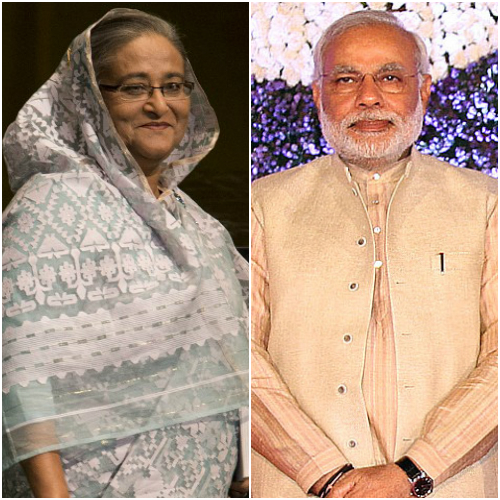 Premier Sheikh Hasina has said she is looking forward to a successful engagement on all outstanding issues between Bangladesh and India during Prime Minister Narendra Modi's visit this week.
Hasina, during a call on by CPI(M)'s newly appointed General Secretary Sitaram Yechury in Dhaka last evening, expressed hope that the trade agreements to be signed between the two countries would be beneficial for the people. At the meeting which lasted almost an hour, Hasina thanked the CPI(M) for its wholehearted support to the Land Boundary Agreement (LBA) and said her country was eager to further deepen mutual cooperation with India and all its neighbours for the betterment and welfare of the people of the region.
Earlier this month, Indian Parliament had passed a historic constitutional amendment bill seeking to settle India's 41-year-old border issue with Bangladesh. The bill will operationalise the 1974 India-Bangladesh Land Boundary agreement that provides for exchange of 161 enclaves adversely-held by the the two countries. Hasina expressed hope that the trade agreements to be concluded between the countries of the region would be beneficial for the people, a CPI(M) statement said.
Observing that all major political parties stood in favour of the resolution of the LBA issue, Yechury said he hoped that the outstanding issues between India and Bangladesh would be resolved during the upcoming Bangladesh visit of Prime Minister Modi. Hasina too said she was looking forward to such a successful engagement between the two countries during Modi's two-day visit from June 6.