Blackstar investment company wants to obtain full ownership of Times Media Group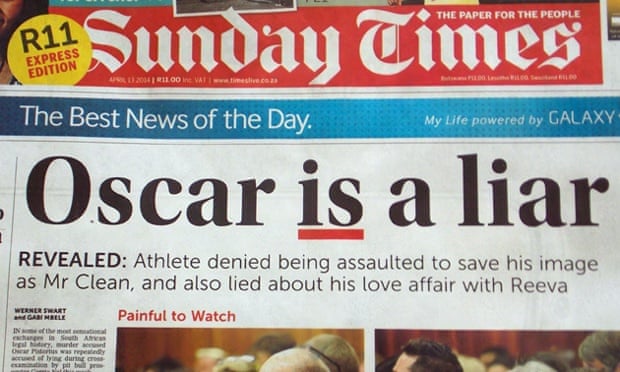 An April 2014 issue of South Africa's Sunday Times during the Oscar Pistorius trial Photograph: Public domain
South Africa's largest English-language newspaper publisher, Times Media Group (TMG), is considering an offer from an investment company, Blackstar, to acquire total ownership.
Blackstar currently owns 32.5% of TMG shares and intends to acquire the remainder. It has offered about £28m in cash and shares for the 67.5% of TMG it doesn't already own.
In a parallel deal, Blackstar will also seek to buy 22.9% of Kagiso Tiso Holdings, which owns radio stations in Ghana, and create a merger of the two.
Andrew Bonamour, chief executive of both Blackstar and TMG, said that the deal would help create "the only pan-African, London-listed media business".
The combined company, to be known as Tiso Blackstar, would have a market capitalisation of about £250m, and would seek a full listing London stock exchange listing. At present, it is listed on the alternative AIM market in London.
It was in September 2012 that Blackstar first acquired a significant interest in TMG, which it has gradually increased while selling off non-core book assets.
TMG publishes one of South Africa's most popular and profitable titles, the Sunday Times. It also owns Business Day and the Financial Mail, formerly part of a joint venture with Pearson, the owner of the Financial Times.
TMG reported a pre-tax profit of £18.4m in the financial year ending June 2014 compared with a pre-tax loss of £3.9m the previous year.