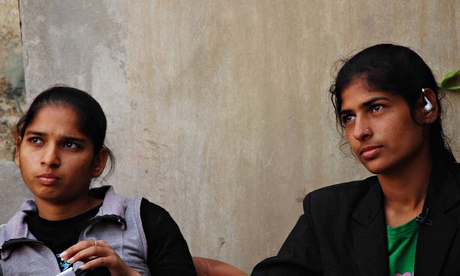 They are unlikely heroines, sitting in the barely furnished front room of their modest house down a narrow alley in a village in northern India. Slim-shouldered, almost frail, but outspoken and unafraid, even if they now say they fear for their lives.
Aarti and Pooja Kumar, 22 and 19 years old, became celebrities in India last week when national TV networks broadcast mobile phone footage of the two sisters fighting back against three men who had been harassing them.
The incident occurred on the bus taking the two women back from their college in the city of Rohtak to Thana Khurd, their village, and immediately struck a chord in the emerging economic power where "Eve-teasing", as sexual harassment is euphemistically known, is a daily ordeal for tens of millions.
"It started at the bus stop, with them trying to talk to us and making rude suggestions. Then it continued on the bus. They were making lewd gestures, like kissing, and touching us and insulting us. No one intervened.
"They just told us not to make a fuss," Aarti Kumar told the Observer in an interview at her home. "Then [the men] started challenging us, saying, 'What are you going to do? Fight us?' Eventually we couldn't take it any longer."
The footage shows Pooja lashing with her belt at the three men, also students and roughly the same age as the women. The bus then stopped and other passengers broke up the fight.
The footage was widely circulated on the internet, with many hailing the women's bravery. "All girls should do what these sisters did. They did well. But it is sad that none of the other passengers came to their help. Society has to change its mindset and people should stop being mere onlookers when such incidents take place," Uma Bharti, a government minister, said. The state government of Haryana said it would honour the girls' "indomitable courage".
The gang rape and murder of a 23-year-old in December 2012 prompted grief and outrage across India, with thousands taking to the streets in protests demanding tougher laws, better policing and a shift in cultural attitudes. The UN asked India, the world's second most populous country, to ensure security for women.
But although stalking has been made a criminal offence, prison terms for rape have been stiffened and gender sensitivity programmes introduced for some police officers, little appears to have changed on the ground.
Reports of crimes against women such as rape, dowry deaths, abduction and molestation increased by 26.7% in 2013 compared with the previous year, according to government statistics. The number of rapes in the country rose by more than a third.
Police said this was the result of more women coming forward, but some campaigners claim that as few as one in 100 rapes are reported. Social stigma and threats are among the reasons for the low rate. A young woman was set on fire after filing a rape complaint against three men in Ludhiana, a city in the north-west of India. She is in a critical condition.
Conservatives blame the problems on western values, immodest dress or even on the over-consumption of junk food. Others say the violence is caused by young men from traditional rural backgrounds who see the increasingly independent behaviour of young women as a threat. Many women complain of systematic harassment, particularly on public transport.
"It is very difficult being a girl in our society. We are barely allowed to breathe. Boys and girls are always kept separate round here, so the boys don't know how to behave around us, how to have a normal friendship," said Pooja.
Haryana has one of the most imbalanced gender ratios in India, with a preference for boys meaning many female foetuses are aborted; there are 877 women to 1,000 men in the state. In Sonipat, where the women live, it is 865 per 1,000. The imbalance is greatest among the young.
The girls' father, a 46-year-old government clerk, said he was proud of his daughters for doing so well in college – the pair have excelled at their computer science degree studies – as well as for standing up for themselves.
"They are not afraid of anyone and that is a good thing. But I am afraid for them now because with this affair they have made many enemies," he said.
Three local men were arrested but freed on bail. The men come from a village only seven miles (12km) from that of the sisters. One of the three told the Observer that he was innocent of the charges against him – assault and molestation – and that his career with the military was now jeopardised.
"My life has been destroyed. My family has lost its reputation. If I am guilty of something, then hang me. But give me a fair trial," said Deepak Hooda, 19.
The incident, and the publicity it has generated, has set the two villages against each other. That of the sisters is noticeably poorer, with a population largely from the lower ranks of India's hierarchy of caste. That of the accused is wealthier, surrounded by lucrative sugar cane fields, and has a population that is drawn from higher on the caste ladder.
"The buses are so crowded that women are bound to get harassed. All the restrictions on women are part of our culture and are just to protect them from this kind of thing," said Kuldeep, a 29-year-old shopkeeper and neighbour of the accused. Others in the village say the men have been "set up".
Support for the sisters was undermined when a second video surfaced showing them beating a man who, they said, had abused them in a park. Legal statements from passengers contradicting the claim that the pair had been harassed were also leaked, leading the state government of Haryana to stall the presentation of awards. "Are 'heroine' Indian sisters really just men-beaters?", asked a headline in the Mail Today, an Indian tabloid.
Supporters of the girls said they were under pressure from local authorities to withdraw their complaint – a common occurrence in India – or suffer the consequences.
The sisters say they hope their stand will inspire others, but that they do not want to live in fear.
Aarti wants to follow postgraduate studies and then "get a good job"; Pooja, more poignantly, said her ambition was to "have my own identity in society" and "leave here".