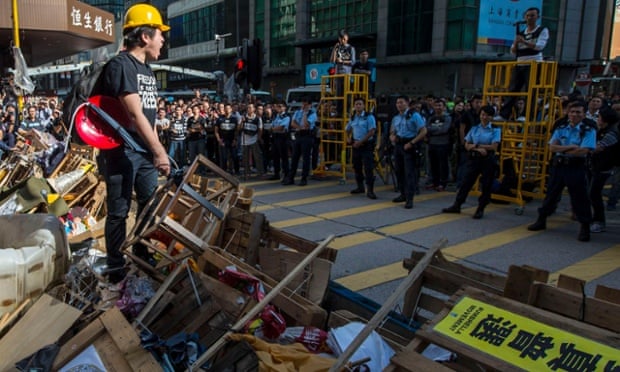 HONG KONG —
Police dismantled the last barricades at Hong Kong's main pro-democracy protest site Thursday and arrested more than 200 activists in an emotion-laded end to a civil disobedience campaign that had lasted more than two months.
The protests, which began with a surge of optimism in late September, ended without any significant concessions from the governments of Hong Kong or China. Still, some protest leaders chanted "we will be back" as they were carried into police vans after staging a defiant sit-in.
The demonstrations represented one of the most serious challenges to the Communist Party's authority since the 1989 demonstrations in Beijing's Tiananmen Square.
Even though Hong Kong's protesters did not achieve their goal — trying to force Beijing to roll back its controls over elections in the former British colony — supporters said they had awakened a generation to the need to hold on to democratic goals.
Earlier in the day, workers in white helmets and then police methodically dismantled the barricades, meeting no resistance from protesters
It brought to close 11 weeks of protests in Hong Kong's Admiralty district, where hundreds of tents had been erected alongside study areas, a stage and first-aid stations. The occupation had filled an eight-lane highway beside key government buildings and on the edge of the financial district, with banners calling for democracy dangling from bridges and artwork on display throughout the site.
The protests drew about 100,000 people at their height. Although crowds gradually decreased, about 10,000 people gathered at the Admiralty site for a rally Wednesday evening.
Before police moved in, protesters packed up many of their tents and carried away some of the artwork. Student leaders rallied the dwindling crowds, which chanted for "full democracy" and "universal suffrage."
Banners at the site promised: "It's only the beginning."
By late afternoon, just about 200 protesters remained, sitting on the road in a final act of civil disobedience. Police loaded about 20 large trucks with barricades and other remains from the site. Then, after issuing repeated warnings, they began carrying away the remaining protesters.
Among those arrested were student leaders Alex Chow and Nathan Law, veteran pro-democracy politician Martin Lee, and entrepreneur Jimmy Lai, whose Apple Daily newspaper had strongly supported the protests and who had spent almost every day sitting at the site.
Lai raised his right fist before two officers grabbed his arms and led him off.
"I believe in the concept of civil disobedience," said 25-year-old hotel employee Manny Chan, not long before he, too, was led away by police. "To fight injustice, we have to get arrested. I would feel very irresponsible if I just leave."
Evidence has emerged that authorities have drawn up a black list of those involved in the protests, with several young people denied entry into mainland China in recent weeks. Students fear that this could damage their employment prospects, and some people stayed away or left the site earlier Thursday for that reason.
"I don't want to be arrested," said homemaker Wah Yeung, 58, adding that police had taken her identity card number after she took part in a march last week. "Sometimes I have to go to China, and I cannot risk being denied entry. This is white terror."
Vicky Chan, a 22-year-old administrator at a nongovernmental organization, said she had "struggled" over whether to face down police and risk arrest. In the end, she slipped away minutes before police moved in.
But many people — both young and old — said they would return in the future.
"I don't want this protest to end," said Mak Sui-fong, 82, claiming that Hong Kong was being destroyed by its chief executive, Leung Chun-ying, whom she described as a puppet of China. "If I wasn't this old, I would be on the front line."
The demonstrators have been demanding full democracy for Hong Kong, with an open process to nominate candidates to replace Leung in a 2017 election. Beijing demands the right to control the nomination process, and the Hong Kong government, arguing that its hands were tied, has refused to make concessions to the protesters.
Support for the protests has waned in recent weeks, and the city has become increasingly polarized . Nevertheless, the desire for democracy in Hong Kong remains strong, with the younger generation increasingly politicized and alienated from the Communist Party.
"We want to tell the government we will increase in strength and with each protest we will get more people involved," Chow, leader of the Hong Kong Federation of Students, said before his arrest. "Today the government is clearing the protest sites, but they can't clear the problem."
Joseph Cheng, a political science professor at the City University of Hong University who had advised the protest leaders, said the campaign had drawn many more people than expected, won the sympathy of the international community and remained largely peaceful.
But he said its spontaneous nature meant that it lacked universally accepted leaders, making a withdrawal harder to coordinate when it became obvious that the government would not budge.
"With the benefit of hindsight, if the protesters had withdrawn after seven or 10 days, it would have been much better," he said.
The problem will now be to maintain the momentum, especially when the Chinese government has made it clear it is not about to give in, Cheng said. "We have nothing we can deliver in concrete terms in the near future."
Police said they had arrested 209 people at the sit-in, bringing the total number of arrests during the entire protest to more than 850. About 129 police officers were injured in clashes in the past 11 weeks, and many protesters also have been hurt, with police hitting them with batons, kicking them and using pepper spray.
Protesters are now setting their sights on a possible rally on New Year's Day, and considering another possible campaign of civil disobedience when the city's legislature debates the government's proposals for political reforms next year.
The protests have seemingly been largely ignored by many on the Chinese mainland, where state media has consistently vilified the protesters as a small, irrational group doing the bidding of Western powers.
There was little reaction on Chinese social media to the protest site's clearance on Thursday.