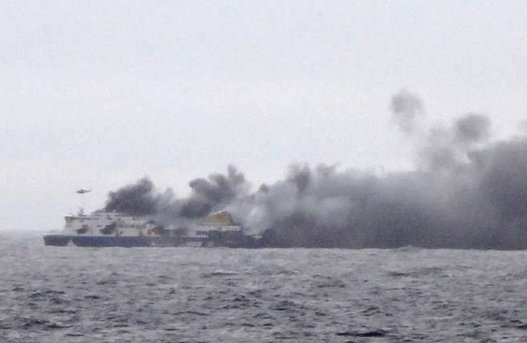 BARI, Italy -- Hundreds of people were evacuated and two more bodies recovered Monday from the Greek ferry fire, bringing the total death toll to seven, the Italian coast guard said.
There was no immediate word on where the two bodies were recovered.
Earlier, authorities found four bodies in the water and the body of one Greek man was recovered Sunday from a lifeboat chute.
Authorities said the evacuation of hundreds of passengers and staff was been completed early Monday afternoon. The captain was the last to leave the ferry, the coast guard said.
The navy said the latest numbers indicate 414 people have been rescued from the ferry.
The ferry company had originally said there were 478 passengers and crew on board the ferry. Officials couldn't immediately explain the discrepancy between the numbers.