SANAA, YEMEN:
Yemeni President Abd-Rabbu Mansour Hadi was ousted as leader of his own political party, the group said on Saturday, weakening his authority at a time of turmoil in the impoverished Arab nation.
The General People's Congress (GPC) has accused Hadi of backing UN sanctions against its influential former chief, Ali Abdullah Saleh, who ruled Yemen for 33 years before resigning in 2012 following mass street protests.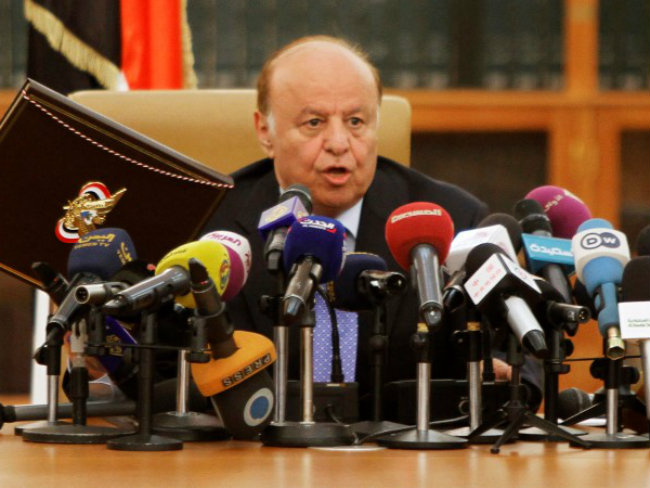 Hadi's dismissal as party chief came the day after he moved to end Yemen's latest political crisis by naming a new power-sharing government in the country, which is racked by religious and tribal violence. RELATED Yemen President Names New PM, Shi'ite Houthis Welcome Choice PM Quits as Shiite Rebels Seize Yemen Government Headquarters United Nations Announces Deal to 'Resolve' Yemen Crisis "Losing this position leaves him without a power base outside the presidency. Previously he was speaking as both president and leader of one of the largest parties. Now he has lost this," said Mustafa Alani, a Gulf-based security analyst. The country's long-running crisis worsened in late September, when the Shi'ite Muslim Houthi movement seized the capital Sanaa and expanded its control further south and west, leading to clashes with al Qaeda and allied Sunni tribes. Underscoring Western and Gulf Arab concerns over stability in Yemen, Al Qaeda in the Arabian Peninsula (AQAP) said on Saturday it had attempted to kill the U.S. ambassador, Matthew Tueller, planting two bombs on Thursday outside his residence. The devices were discovered minutes before they were due to explode, AQAP's said on its Twitter account. The claim could not be immediately verified. The U.N. Security Council imposed sanctions on Saleh on Friday, accusing him of obstructing the country's political transition. In a document seen by Reuters, the United States said he had become a primary supporter of the Houthis. Saleh has denied seeking to destabilize Yemen and his supporters in the GPC staged a large rally in Sanaa on Friday against the sanctions, which are also being applied to two senior members of the Houthi movement. Hadi supporters now constitute a small minority in the 34-member cabinet, which contains nine GPC members and six members of the Houthi movement, as well as blocs representing the country's other main political factions.