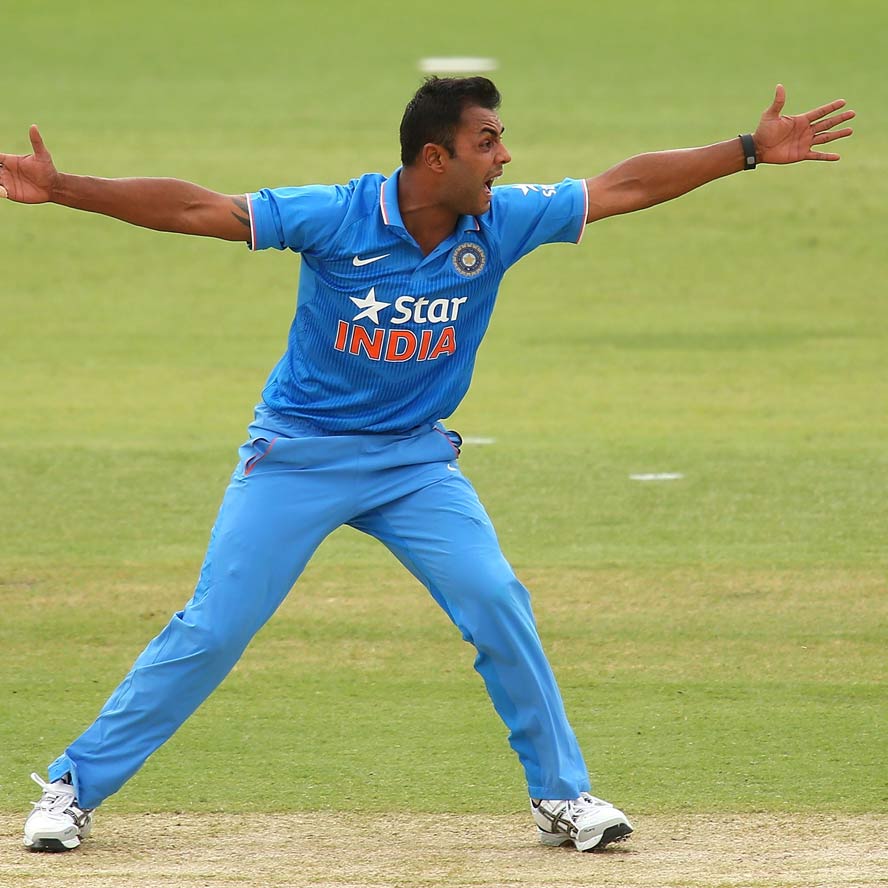 Stuart Terence Roger Binny, born June 3, 1984, is an Indian all-rounder, who was a part of the side's campaign in the World Cup 2015. He is the son of former Indian all-rounder Roger Binny and has played three Tests and nine One-Day Internationals (ODIs). Suvajit Mustafi lists out eight facts about the rare seam bowling Indian all-rounder.
1. Like father, like son yet not very alike
Stuart is in the same mould as his father​,​ Roger Binny. He is a wicket-to-wicket medium​-​pacer and also a useful lower-order batsman. Like Roger in 1983 and 1987, Stuart​,​ too​, ​was a part of India's World Cup campaign in 2015​. However, he didn't get ​to play even a single a game.2. Coached by his father
Born in Bangalore, Binny earlier attended The Frank Anthony Public School. Later, he attended high school in The St. Josephs Indian High School where Roger was the school cricket coach.
3. Made a name in the Indian Cricket League
Binny wasn't a regular fixture in the Karnataka state side and when the Indian Cricket League (ICL) arrived in 2007, he inked a deal with Hyderabad Heroes. ICL gave the much​-​needed exposure to him as he ​played alongside​ with cricket greats. He established himself as one of the best all-rounders in the first season itself scoring 804 runs at an average of 25.93​.
He ​also claimed 17 wickets. After the league stopped, Binny returned to First-Class cricket and became a regular fixture.
4. India call
Binny soon established himself as the key player for Karnataka, a side that dominated Indian domestic scene in the recent times. In First-Class cricket, he averages close to 35 with the bat and almost 32 with the ball. He also turned out to be one of the key players for his Indian Premier League (IPL) side Rajasthan Royals. He was rewarded for his consistency with a national call-up. He made his international debut against New Zealand at Hamilton.
5. Best bowling figures by an Indian in ODIs
In what was his second ODI, Binny bagged the best figures by an Indian bowler. In an ODI against Bangladesh at Dhaka in 2014, India defending a modest 105, bowled out the hosts for 58 courtesy Binny's 6 for 4. His figures were 4.4-2-6-4 and in achieving so he surpassed his state mate Anil Kumble's 6 for 12 against the West Indies in the Hero Cup final in 1993.
6. Shines with the bat on Test debut
Binny fulfilled a dream, when at the age of 30; he was awarded the Indian Test cap at Nottingham against England. In the second innings, India were in a state of bother at 184 for six. Binny came in at​ N​o. 8 and played scored a fighting 78 to held India save the Test. However, a lot was expected from him with the ball. He was under bowled as he was given only 10 overs out of the 145 that England face and he went wicket-less.
7. Binny-Mayanti, the cricket's version of Casillas-Carbonero
Binny is married to popular TV presenter Mayanti Langer. The couple tied​ the ​knot in 2012​. A section of media termed ​them ​as cricket's Casillas-Carbonero. Iker Casillas, the Spanish football captain during the side's golden run, was followed by Sara Carbonero, his girlfriend, a TV sports journalist.
He may not be a regular in the side or carry the aura of Casillas​,​ but Mayanti as a sports presenter follows the Indian side for her assignments. Most recently she was seen during the World Cup 2015 as a presenter for Star Sports.
8. Roger Binny walked out when his son's name popped up for selection
It's tough to stop the chattering jaws when as a national selector you select your kin to the national side over other established names. Roger is a national selector representing the South Zone and was a member of the selection panel that selected Stuart ahead of Yuvraj Singh for the World Cup 2015.
However​,​ it was later revealed that the senior Binny stays out of the discussion room when his son's name pops up. A BCCI official confirmed, "He stayed out of the room like always, as we deliberated on his son's inclusion."
(Suvajit Mustafi consumes cricket for lunch, fiction for dinner and munches numerous other snacks throughout the day. Yes, a jack of several trades , all Suvajit dreamt of was being India's World Cup winning skipper but ended up being a sports writer, author, screenwriter, director, copywriter, graphic designer, sportsmarketer , strategist, entrepreneur, philosopher and traveller. Donning so many hats, it's cricket which gives him the ultimate high and where he finds solace. He can be followed at @RibsGully and rivu7)