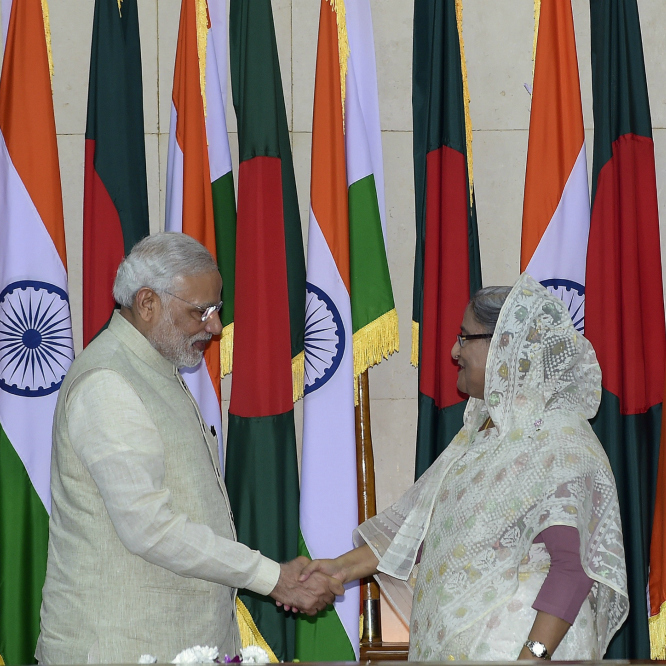 Prime Minister Narendra Modi on Saturday exuded confidence of reaching a "fair solution" to the long-pending Teesta and Feni rivers water sharing issues with Bangladesh.
The Teesta issue was understood to have figured during a brief interaction between Modi, Bangladesh Prime Minister Sheikh Hasina and West Bengal Chief Minister Mamata Banerjee here. "Our rivers should nurture our relationship, not become a source of discord. Water sharing is, above all, a human issue. It affects life and livelihood on both sides of the border.
"We have shown political resolve and mutual goodwill with the Land Boundary Agreement. I am confident that with the support of state governments in India, we can reach a fair solution on Teesta and Feni Rivers. We should also work together to renew and clean our rivers," Modi said.
He was speaking at a joint press interaction with Prime Minister Hasina after their extensive talks on the entire gamut of bilateral issues. The Teesta deal was set to be inked during the then Prime Minister Manmohan Singh's visit to Bangladesh in September 2011, but was postponed at the last minute due to objections by the West Bengal Chief Minister.
Banerjee was today present with Modi and Hasina during signing of the protocol to ratifify the historic Land Boundary Agreement. The Teesta water is crucial for Bangladesh, especially in the leanest period from December to March when the water flow often temporarily comes down to less than 1,000 cusecs from 5,000 cusecs every year. In her comments, Hasina said the issue of sharing of water of 54 common rivers figured in the meeting.