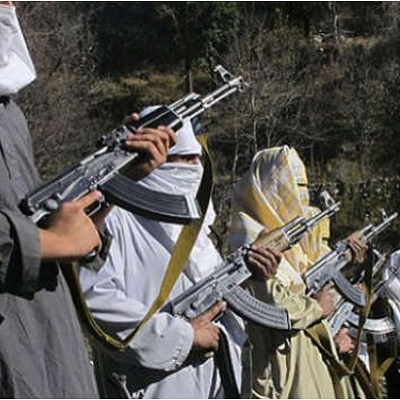 The Pentagon has expressed serious concern over Pakistan being a safe haven for terrorists while US experts said the country's approach towards terrorist groups operating in India and Afghanistan has not changed.
"The sanctuary that some of these groups enjoy in Pakistan has long been an issue of concern for us, it's long been a topic of discussion with our Pakistani counterparts," the Pentagon Press Secretary Rear Admiral John Kirby told reporters at a news conference.
Pentagon's statement comes days after the State Department said that in the last few years, it has not been able to provide the necessary Congressional-mandated certification to Pakistan that it has been taking action against terrorist outfits like Lashkar-e-Taiba (LeT) and the Haqqani network.
Both in 2013 and 2014, the State Department carried out the review of Pakistan's approach against terrorism and other measures as mandated by the Congress.
The review found out that Pakistan does not meet the criteria, even as US officials noted that some progress has been made. In the absence of such a certification, the Secretary of State had to issue the national interest waiver for the Obama Administration to release funds to Pakistan.
"It (terrorist safe haven) is a common threat, a common challenge that we all have to continue to work on together and to look for ways to improve that cooperation," Kirby said as top American counter terrorism experts and South Asia experts concluded that Pakistan approach towards India and Afghan-centric terrorist outfits have not changed and the world should not expect any change either, despite the recent killing of innocent children in a Peshawar school.
"The ISI has not changed its behavior. It remains the patron of LeT and the Quetta Shura," Bruce Riedel, a former CIA official, who is now considered to be a top counter-terrorism expert on Pakistan told PTI.
"Pakistan is increasingly a victim of the blowback from ISI's years of patronizing terror but the Army has not changed, " Bruce said.
"Pakistan has taken steps to fight TTP terrorists in the tribal border areas, particularly with its military operations in North Waziristan that started last June", Bruce said.
"However, Pakistan has done far too little to arrest and prosecute terrorists, especially those that operate in Afghanistan and India," Lisa Curtis of the Heritage Foundation told PTI.
"The Obama administration is in a bind because it cannot certify that Pakistan is doing all it can to shut down groups like LeT and the Haqqani Network, especially when the LeT mastermind behind the 2008 Mumbai attacks, Zakiur Rehman Lakhvi, was almost granted bail last week," she said.
"Yet the US administration also is loath to use its national security waiver authority to provide military aid to Pakistan. The issue of the Pakistan-based terrorist threat and Pakistan's lack of action against groups targeting India is likely to be a major topic of discussion during Secretary (of State, John) Kerry's visit to India this week," Curtis said.
Michael Krepon, Co-founder of the Stimson Center said Pakistan's counter-terrorism efforts are belated and welcome.
"Sectarian outfits, the Afghan Taliban and the LeT have greatly damaged the social fabric and economic prospects of Pakistan, but they have not turned their guns against the organs of the state. So far, there is little public evidence that they are part of Pakistan's counter-terrorism campaign"
It isn't clear what leverage Rawalpindi can bring to bear against the Afghan Taliban and the LeT, despite nurturing them," Krepon said.
The current campaign gained momentum after the attacks on Karachi's airport, and then found its stride after the massacre of school children in Peshawar, he said.
This suggests that there will be punishing responses in the future to attacks against state institutions, landmarks, military personnel and their families, he added.