Students of prominent activist, who is serving a life sentence, have been charged with separatism, rights lawyers said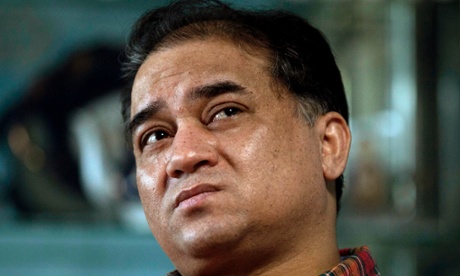 A Chinese court has sentenced seven students of the jailed Uighur scholar Ilham Tohti in western Xinjiang region to up to eight years in prison in a case that has been criticised by the west, two rights lawyers said.
Tohti, China's most prominent advocate for the rights of Muslim Uighurs, lost his appeal against a life sentence for separatism in November.
During his trial, he rejected the prosecution's evidence and said statements made against him by student volunteers who had worked on a website he managed had been made under pressure.
Li Fangping, the lawyer who defended Tohti, said he was told by the students' lawyer on Monday that they had been sentenced by the intermediate court in Xinjiang's capital Urumqi. Prosecutors had charged the students with separatism, Li said.
"Yesterday we received information of [sentences] between three and eight years," Li told Reuters. "It's unclear what condition they are in. It is also unclear if they will appeal."
Liu Xiaoyuan, another lawyer who defended Tohti, confirmed the sentences. A court official contacted about the case declined to comment.
China's courts lack independence from the ruling Communist party and appeals in such cases are typically rejected. In severe cases, charges of separatism are punishable by death.
The seven students were separated into two trials in November, one conducted in Chinese and a second in the Uighur language for one student.
China has blamed violent attacks in which hundreds of people have been killed in recent years on Islamist militants from Xinjiang who it says want to establish an independent state called East Turkestan.
China has made no mention of the cases and has not provided names of the students, many of whom had been detained since January. However, rights groups have identified the students.
The Global Times, a tabloid run by the party's official People's Daily, said six of the students – Perhat Halmurat, Shohret Nijat, Mutellip Imin, Abduqeyyum Ablimit, Atikem Rozi and Akbar Imin, are Uighur. The seventh student, Luo Yuwei, is from the Yi ethnic minority, the paper said.
The US has called for the release of Tohti and his students.
Prosecutors said Tohti had "bewitched and coerced young ethnic students" on the Uighurbiz.net website he ran. The economics professor said he had never associated with any terrorist organisation and "relied only on pen and paper" to advocate for Uighurs' rights.