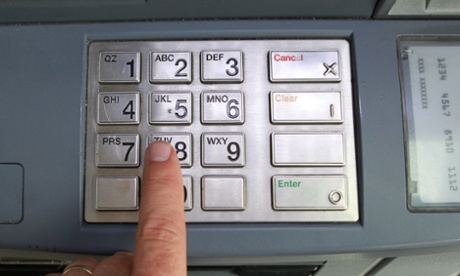 Northern Territory police have arrested an alleged crime gang suspected of being behind up to 65 ATM raids across four states.
The four men, aged 31, 33, 37 and 41, were arrested in Coolalinga, 30km southeast of Darwin, after the police were tipped off by interstate colleagues who suggested the group might be coming to target the territory.
"The [NT police] set up the operation to target these guys if they did, and were lucky enough to ping them straight away," a police spokesman told Guardian Australia.
Police believed the men were casing an ATM in Coolalinga when they were arrested.
"The equipment found after [police] did their search warrants plus what they found in the car was pretty consistent with the sort of [activity] it was alleged they were doing," the spokesman said.
Police said they found tools and high-tech surveillance equipment with the four men.
The group is allegedly behind up to 65 cases of theft from ATMs in Queensland, NSW, Victoria and South Australia. ATMs can have hundreds of thousands of dollars inside.
The men are not believed to have committed any offence in the Northern Territory, but are likely to be charged with "conspiracy to commit a crime". Further charges may be laid depending on the results of search warrants. On Monday night they were being held in a Darwin watch house.
"Our interstate colleagues will be keen to speak with these people once they have faced charges here," Detective Senior Sergeant Day said.
"The detection and arrest of such a sophisticated interstate crime gang operating in the Northern Territory will hopefully act as a deterrent for others who may incorrectly consider the NT to be an easy target."
It's not believed the men have any affiliation with other criminal groups