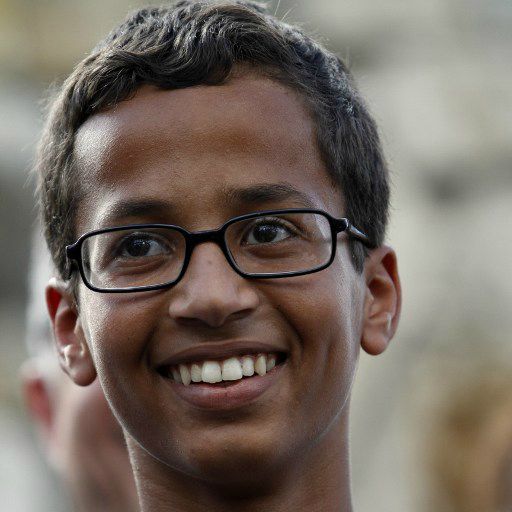 Texas Muslim teenager Ahmed Mohamed spoke to the media following the controversy over his clock, which got him handcuffed and interrogated by Texas police on Wednesday.
In a press conference, Ahmed and his mother seemed joyous that the hoax bomb charges have been dropped.
"I'm the person who built a clock and got in a lot of trouble for it," Ahmed began.
"I brought the clock to school to impress my teacher, but she saw it as a threat to her. But now the charges have been dropped. (Right now) I am thinking of transferring schools", said Ahmed.
Ahmed and his mother refused to disclose what school they are thinking of transferring him to, or whether it would be a private school.
Ahmed expressed gratitude to those who supported him on social media. He said he wasn't bothered that the cops didn't apologise to him. Ahmed Mohamed said he would accept Barack Obama's invitation to visit the White House.
When asked what advice he would give to anyone else, he said, "Go for it. Don't let people change who you are. Even if you get consequence for it, I still suggest you show it to people, because you need to show them your talent."
During the press conference, Ahmed's mother refused to let the media question the boy about legal options available to him. However, he said, "I won't meet the Texas police chief without my lawyer", to general amusement.
Ahmed told MSNBC he was still suspended from school till Thursday, and added that he had been interrogated for an hour and 25 minutes. He said he kept repeating that it was a clock, not a bomb, but they wouldn't let him go.
But, the Washington Post quoted a spokesperson for the Irving Independent School District saying that, "the information that has been made public to this point has been very unbalanced." She claimed the school only wanted to ensure safety of students on campus.
Nevertheless, Ahmed Mohamed has become an instant celebrity across the globe.
Barack Obama, Facebook founder Mark Zuckerberg, and Google
immediately come out in support of Muslim teen arrested for making a clock, while Twitter and Facebook were filled with condemnations for the school and police, and praise for the boy.