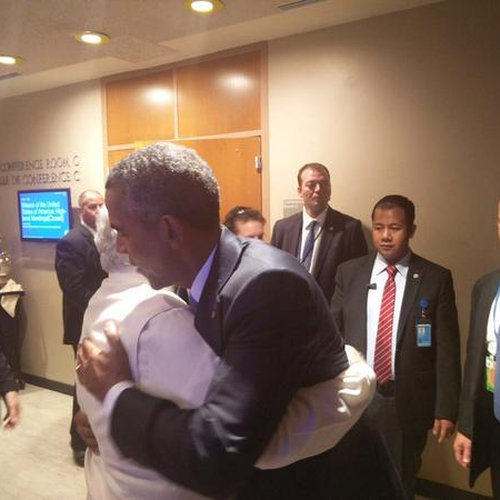 Prime Minister Narendra Modi met US President Barack Obama and discussed a host of issues, including stepping up economic engagement and climate change, during their third meeting in about a year.
Obama warmly received Modi by hugging him before their meeting, the third between them since May last year.
US President Barack Obama on Monday praised India's Prime Minister Narendra Modi for his commitment to clean energy and said Indian leadership on climate change would be critical for decades to come. Modi told reporters after the meeting that he shared Obama's "uncompromising" commitment to fighting climate change without hurting development. The two men were meeting on the sidelines of the United Nations General Assembly.
The meeting gave the two leaders an opportunity to build on the discussions they had in New Delhi in January when Obama travelled to India to attend the Republic Day Parade as its chief guest. Modi arrived in the US last Wednesday on a six-day official visit during which he travelled to Silicon Valley and met top IT CEOs of the region and also addressed a meeting of some 18,000 Indian Americans in at the SAP Centre in San Jose.
Earlier in the day, Modi also held bilateral meetings with his British counterpart David Cameron and French President Francois Hollande. They met last year during Modi's US visit and then in January earlier this year.
The Modi-Obama meeting comes close on the heels of the conclusion of the inaugural Strategic and Commercial Dialogue between the US and India.
In the dialogue, India and the US today agreed to deepen cooperation in fighting terrorism and asked Pakistan to bring to justice the 2008 Mumbai attack perpetrators. Ahead of the Obama-Modi meeting, Deputy National Security Advisor Ben Rhodes had said, "We are deeply committed to strengthening the US-Indian relationship, building our economic and commercial ties, advancing our political and security cooperation in Asia and around the world."