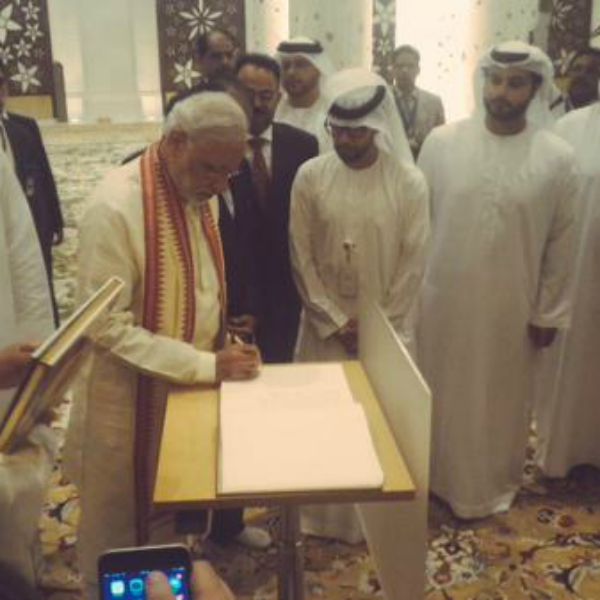 Prime Minister Narendra Modi arrived at the Abu Dhabi Presidential Airport on Sunday for his maiden official visit to the gulf nation. Upon his arrival, he was received by the Crown Prince of Abu Dhabi, His Highness Sheikh Mohamed bin Zayed Al Nahyan.
There was a ceremonial greeting for Prime Minister Modi, who was accompanied out of the airport by the Crown Prince of Abu Dhabi. Prime Minister Modi then met with the UAE dignitaries and exchanged pleasantries with them. This is the first visit by an Indian Prime Minister to the gulf nation in 34 years.
"Our shared values and strong bilateral ties provide an important basis on which the UAE and India can elevate their relationship to a comprehensive strategic partnership," Shaikh Abdullah bin Zayed Al Nahyan was quoted as saying by Khaleej Times.
"Prime Minister Narendra Modi's visit to the UAE provides an opportunity to chart a new course in our partnership for the 21st century. We look forward to a productive exchange of ideas covering a wide range of economic, political and security issues of mutual interest," he said ahead of Modi's two-day visit.
PM Modi is discussing investment opportunities over high level dinner which is hosted by HH Hamed bin Zayed Al Nahyan, MD of Abu Dhabi Investment Authority, External Affairs Ministry spokesperson Vikas Swarup said.
UAE Govt has decided to allot land for building a temple in Abu Dhabi. PM Narendra Modi has thanked UAE leadership for this landmark decision.
Modi visits ICAD Residential City, interacts with Indian workers.
Prime Minister Narendra Modi on Sunday began his two-day trip to the UAE by visiting the historic Sheikh Zayed Grand mosque, the world's third largest.
After his arrival, Modi, on first public engagement here, visited the Sheikh Zayed Grand Mosque, a key place of worship in the UAE and known as a masterpiece of Islamic architecture. The mosque is third largest in the world after the ones in Mecca and Madina in Saudi Arabia. It is named after the founder and first President of the UAE, the late Sheikh Zayed bin Sultan Al Nahyan.