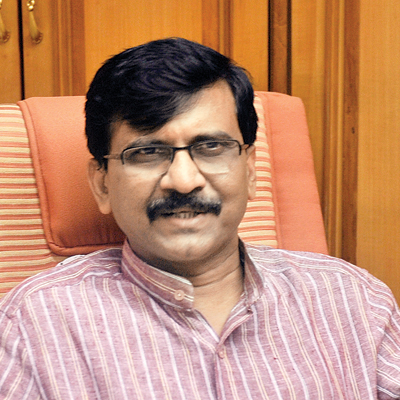 Indicating the extent of the rising vitiation in Maharashtra's political and social life, old foes the Shiv Sena and the All-India Majlis E Ittehadul Muslimeen (AIMIM) are back to sniping at each other. The latest round came after AIMIM MLA from Aurangabad, Imtiaz Jaleel opposed memorials for Sena chief Bal Thackeray and senior BJP leader Gopinath Munde on government land.
Now, the Sena has hit back and dared the Asaduddin Owaisi-led party to similarly call for the demolition of illegal masjids and dargahs which stand on government land. It has also called on Muslims to accept family planning and restrict the size of their families as a precursor to development.
"There are thousands of dargahs and masjids in Maharashtra which are illegally constructed on government land and because of these encumbrances, there are roadblocks in development. Is the AIMIM going to call for the demolition of these masjids? Their point about development can be taken as truthful and genuine only only if they say this," said an editorial on Monday in the Sena organ Saamna. The newspaper has Sena president Uddhav Thackeray as the editor and Rajya Sabha MP Sanjay Raut as the executive editor.
"If you are talking about development, then if they want to progress, Muslims must first accept family planning. They will develop after accepting a family planning law," Raut told dna, adding that the AIMIM was skirting the issue, choosing to criticise others instead.
"Development-oriented politics is 100% necessary. But this has to be done on one's own initiative and not by others... high population has been an impediment to development," charged Raut, adding that the Muslim population had risen from 2 crore since Partition to 22 crore now.
"If you are talking about the waste of public money, what about the Haj subsidy?" he questioned, pointing to how the government had initiated many schemes for minorities in the aftermath of the Justice Rajinder Sachar committee report, which had pointed to backwardness among Muslims. He was, however, non-committal on whether the Sena would demand that the BJP-led government scrap Haj subsidies.
"How can memorials for Chhatrapati Shivaji Maharaj and Balasaheb Thackeray be opposed? There is no official memorial for Shivaji Maharaj and this should have been done (earlier). How can this be waste of money? Only one memorial is being constructed, not many," said Raut.
He also criticised the AIMIM's opposition to celebrating 'International Yoga Day' and performing surya namaskars in schools on May 21. "Don't you accept sunshine? Do you stay in darkness? Do you reject the sun's rays?" questioned Raut, on the opposition to surya namaskars by the party and Muslim organisations, citing it as unIslamic.