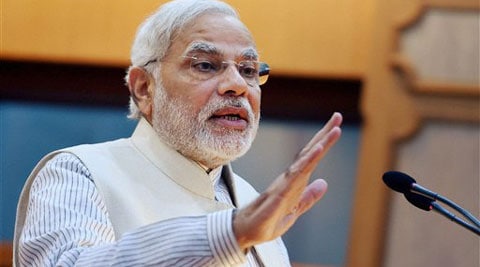 NEW DELHI: Prime Minister Narendra Modi has warned BJP members from spreading communal hatred, acknowledging that provocative comments made by some of his party colleagues were "totally uncalled for" and declaring that constitutional guarantees of religious freedom and non-discrimination were "non-negotiable".
Asked by the news agency UNI about some BJP members spreading communal hatred, the PM said, "Some unfortunate comments have been made, which were totally uncalled for. Our Constitution guarantees religious freedom to every citizen and that is not negotiable... any discrimination or violence against any community will not be tolerated. My position on this is very clear: Sab ka saath, sab ka vikas. We stand for every one of the 1.25 billion Indians regardless of caste or creed and we will work for the progress of every one of them."
Though broadly a reiteration of the public rebuke to in-house hardliners, including ministers of state Sadhvi Niranjan Jyoti and Giriraj Singh, and outspoken MPs Mahant Adityanath and Sakshi Maharaj, the PM's comments in the interview to the news agency stood out for the forthright admission that some of his party colleagues were in the wrong. Observers were quick to point out that the statement was a departure from the efforts to establish an equivalence by assigning the blame to the unknown and unidentifiable "whoever responsible".
The controversial statements and actions of other allied Sangh outfits embarrassed the government, and were used by its opponents to allege that Modi's campaign promise not to discriminate among communities on grounds of faith was a mere ploy. On Monday, Modi asserted that he would exclusively focus on growth acceleration and job creation. "Our focal point is clear: Vikas, Vikas, Vikas; jobs, jobs, jobs."
On the performance of the NDA government, he said all actions in the past one year had been driven by long-term national interest. Pointing out the string of scams that dogged the UPA regime, Modi said, "Our precious natural resources were going into the hands of a chosen few. In contrast, there are neither any charges of corruption against my government nor any scandals. We have given a clean, transparent and efficient government."
On the contentious land acquisition bill and the opposition charges of being 'pro-corporate' and 'anti-poor', the PM said, "Those who gave away precious natural resources like coal and spectrum to their favourite industrialists have no right to say this." He accused Congress of sustaining its politics only in the name of the poor in the last six decades. "You should ask them, if you were pro-poor, why does poverty still exist in India?" he countered.
He said UPA's land acquisition Act was neither in the interest of farmers nor in the interest of the country's development. "After we took over, many state governments, chief ministers and public representatives made representations against various provisions of the 2013 Act. Tell me, in a federal system, should we have ignored concerns voiced by states?" he asked, adding that the amendments only try to correct anomalies pointed out by states. "The criticism against our bill is politically motivated. Our bill focuses on benefitting the farmer and balancing the long-term interests of the nation," he said.
Modi said the government was open to a discussion with all political parties, and would consider their suggestions so long as the core objectives were met.
On the agrarian crisis, the PM said the problem in agriculture was endemic and decades of mismanagement had led to the present situation. "We have started long-term steps for the farm sector. Unlike the previous government, we were successful in defending the interests of the farmers at the WTO... agriculture, industry and services are equally important," he said.
Citing the Jan Dhan scheme, he said the NDA government had taken steps for financial inclusion of the poor by bringing them under the banking system. "People get insurance cover as well as overdraft facility through these accounts. For workers, we introduced a number of schemes including the Universal Account Number so that they can avail their EPF benefits. The so-called pro-poor have been just repeating that there is leakage in subsidy. We used technology to see that LPG subsidy and scholarships reach the targeted person directly," he said.
Modi said 'Swachh Bharat' mission was to address health and hygiene issues of the poor so that they do not affect their working capacity and output.
Asked about his much-touted 'Achhe Din' promise, Modi said UPA was a 'scam a day' government. "If you can recall that bad phase, misdeeds and wrong doings, you will feel that the country got rid of 'bure-din' (bad phase)... 'Achhe din' have already been heralded but some people are trying to belittle and tarnish our performance," he said.
Asked about freeze in Indo-Pak ties, Modi said India had only one expectation from Pakistan that the "nation follows the path of peace and non violence. Then there is no issue... The deadlock should end".
On the boundary dispute with China, the PM said he had already made India's point of view very clear to Beijing. "Both India and China have potential for growth ... President Xi and I are committed at personal level to take the cooperative and peaceful process forward."