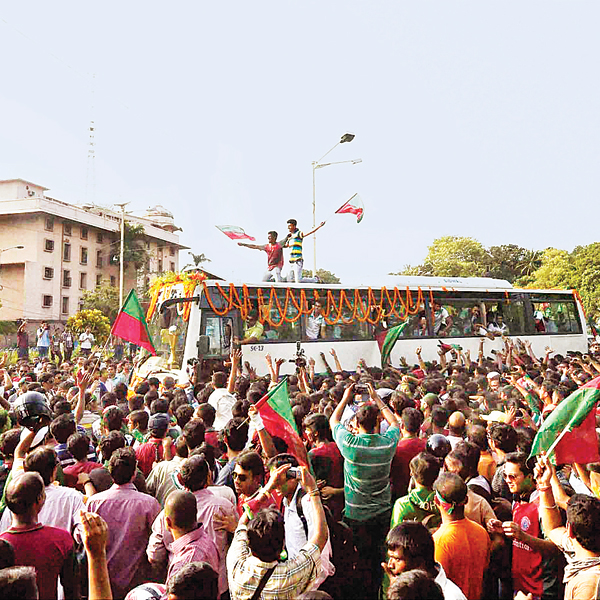 Nigerian Bello Razaq may be Kolkata's most loved after scoring against Bengaluru FC to help Mohun Bagan win the I-League. But Santosh Kashyap, coach of third-placed Royal Wahingdoh, said Bagan's real heroes were the goalkeeping duo of Debjit Majumder and Shilton Paul.
A lot has been said of Bagan's attacking strength, but the fact that they conceded just 16 goals in their 20 matches this season shows that their true strength lies in their defence. Only Dempo in 2007-08 had a better defensive record. They had conceded 13 goals in 18 matches, which is almost 0.72 goals per game.
"You can make as many moves upfront but if you concede, you're not going to win anything. Debjit (Majumder) has had a fantastic season. He has pulled off some match-winning saves. To be at the top of your game the entire season is the biggest challenge. And, he has done just that. Even in the last league game on Sunday, he pulled off a couple of essential saves. When he was injured for a couple of seasons, Shilton (Paul) filled in and did his job perfectly. So you see, it's their goalkeepers and their defensive wall that won them the title," said Kashyap.
For the record, Majumder conceded just 12 goals in the 14 games that he played, while Paul, who played for Chennaiyin FC in the Indian Super League (ISL), conceded only four in the six games that he played.
Bagan started the season on a fairytale note, keeping a no-loss record for the first 12 games. Playing at home, Wahingdoh were the first to breach Bagan's impregnable defence to register a 3-2 victory. The next unfavourable result for Bagan was a 1-1 draw to Mumbai FC. The real shocker was their 0-1 loss to I-League newcomers and bottom-placed side Bharat FC.
But, it would be unfair to hail only the goalkeepers for the triumph. The Bagan management backed Katsumi Yusa at a time when many would've written him off. The winger repaid their faith ten-fold. A live-wire in the midfield, Yusa was the creator of many goals, and at times, played holding midfielder and controlled the play.
And then, Bagan signed Sony Norde from Sheikh Jamal Dhanmodi in the Bangladesh Premier League. Relatively a nobody, Norde silenced the critics with his tricks and turns making life hell for the opposition defenders.
What's more important was that Yusa and Norde combined brilliantly, scoring 16 of Bagan's 32 goals in the league this season.
But the real masterstroke by the Bagan management, according to Kashyap, was to hire Sanjay Sen as their coach. Sen was appointed after Subhas Bhowmick had to leave as he did not possess the required AFC 'A' licence, which is a must in order to coach an I-League top tier club.
"I think not everyone was happy when Sen was appointed, the fans in particular. But look what he has done. He has transformed his side into match-winners. He created a balanced side. Of course, he had the backing of an excellent management group and support staff. The fans backed the team immensely. An Indian coach guiding the team to victory shows that foreigners don't always make better coaches," Kashyap said.
Bengaluru could've won the game had their defence been more alert in the final minutes or had the referee given them a penalty for a foul on Robin Singh. But Kashyap said that leaving Sunil Chhetri out of the starting 11 was their biggest mistake. "Players like Chhetri are big-game players. They need a single chance to change a game. Of course, every coach thinks differently, but I think Ashley Westwood (Bengaluru coach) made a mistake there."
BAGAN'S RECENT TRIUMPHS
2002: Airlines Cup
2003: IFA Shield
2004: Airlines Cup
2005: Kolkata League, Airlines Cup
2006: Fed Cup
2007: Super League, Kolkata League
2008: Kolkata League, Fed Cup
2009: Super Cup
2010: Kolkata League
2012: Airlines Cup
(Won 13 titles out of 42 in the last 13 years before the latest I-League title)