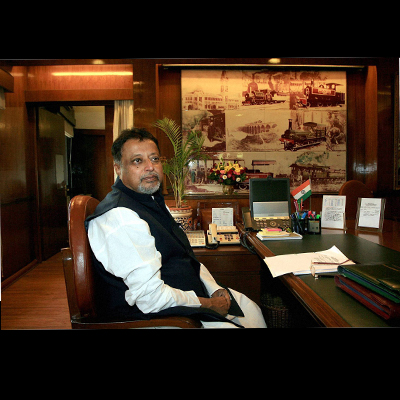 In a major blow to the Trinamool Congress, the CBI on Monday summoned party's all India general secretary Mukul Roy in connection with the multi-crore Saradha scam.
According to the sources in the agency, the central agency sent the notice through an e-mail to Roy, a close aid of Trinamool Congress supremo Mamata Banerjee and has asked to appear before it this week. Later, the agency informed Roy over the phone.
Sources also said that after examining call records of Saradha boss Sudipta Sen they have found that he had frequent telephonic conversations with Roy.
Sen said in his statement given to CBI that he had reportedly met Roy at Nizam Palace in April 2013 before he fled Kolkata. Suspended Trinamool Congress Rajya Sabha MP Kunal Ghosh has repeatedly made the claim. Later, Saradha employee Arvind Singh Chauhan, who also drove Sen's car had claimed that such a meeting took place.
The CBI is likely to quiz him on his alleged involvement in the functioning of the Bengali daily Kolom. Recently pictures of Roy at Kolom's office had surfaced.
Two Rajya Sabha MPs - Kunal Ghosh and Srinjoy Bose - and the party vice-president Rajat Majumdar of the Trinamool Congress and state sports minister Madan Mitra are behind the bars for their involvement in the Saradha scam.
Earlier, Mukul Roy had said he would quit politics if the party's link with Saradha ponzi scheme scam is proved. We (TMC) are neither thieves nor frauds. If our party's involvement is proved under any circumstances, I will quit politics.
For More update Please visit http://uversenews.blogspot.in