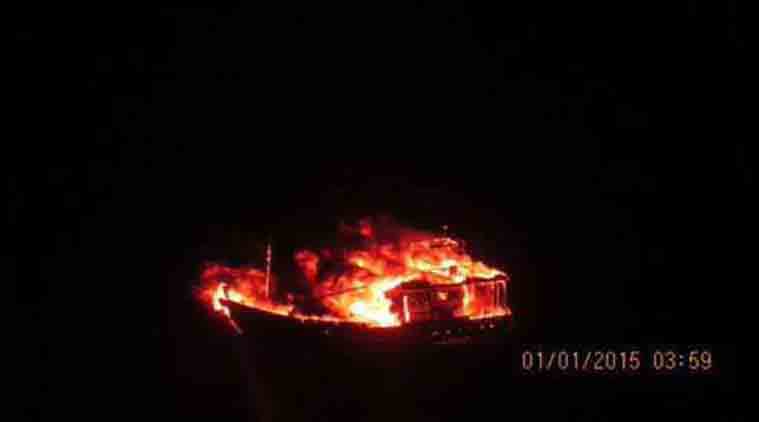 Minister Manohar Parrikar has strongly asserted that the mysterious boat that blew itself off Porbander coast on New Year night was in constant touch with Pakistan.
Parrikar said the the intercepts are being probed and the truth will come out in few days. He, however, categorically said that he is not aware what was inside the boat. "Govt will release all analysis on the suspected Pakistani boat in 3-4 days," said Parrikar.
"We will release the evidence soon. I don't know what was inside the boat. But one thing is sure those who were present in the boat, there intentions were not good," said the minister.
Earlier during the day, Parrikar had said "circumstantial evidence" indicates that the Pakistani boat, that was intercepted by Indian Coast Guard on New Year's night, had suspected terror links.
Dismissing claims that the occupants of boat were smugglers, the Minister said he would classify them as "suspected or possible terrorists" since they had committed suicide after being intercepted and added that they were in touch with Pakistani maritime officials, "army and international contacts".
He said the boat was neither in a fishing area nor on any busy route preferred by smugglers to sneak in and that their actions indicate that they were there for "some other kind of activity. We are not sure what is that other kind".
His remarks came as questions were being raised on the veracity of claims that a 2008 Mumbai attack-style operation had been foiled. There were also reports claiming that the boat was involved in smuggling. The Congress has asked the government to come clean on the matter leading to a slugfest with the ruling BJP which accused the former of providing "ammunition to Pakistan" and speaking their language besides playing "petty politics" on terror.
Meanwhile, rejecting BJP's charge of playing "dirty politics" over the 'bomb' boat issue, Congress said doubts have been raised in the public realm and it has the right as principal opposition party to question the government.
Party spokesman Randeep Surjewala responded to BJP's allegation by saying that branding as "Pakistani" those raising questions over the matter goes against the basic tenets of democracy.
"We would request our friends in BJP to stop branding every Indian citizen asking questions as a Pakistani, for that goes against the very tenets of democracy," he told reporters here.
"As a primary opposition party, it is our responsibility that whenever in public life divisions crop up in different agencies of the government, we are in a position to put forward questions on behalf of the people to the government," he said