As white flannels make way for blue jerseys, Team India will be yearning to make amends in the limited-overs leg of the tour starting this week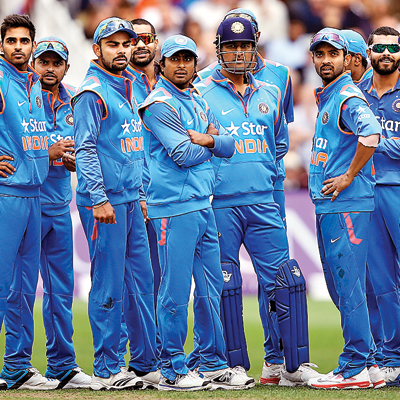 Were you disappointed with Team India's showing in the Test series? Were you gutted to see them make a mess of the chase in Adelaide? And do you think they could have won in Melbourne and Sydney?
Well, if you are yearning for an Indian win, then you may not have to wait for too long. Known as the kings of the one-day game, India are all set to strut their stuff in the tri-series — involving Australia and England — starting this week.
What's it with India and the blue jersey? It brings the best out of the players. One saw it in the 2011 World Cup played in India after a Test series loss in South Africa. Fast-forward to 2014, and you will see how India put behind a 1-3 Test scoreline and drubbed the hosts England in the ODI series. Team India then thrashed the West Indies and Sri Lanka in successive rubbers on home soil.
Following 2-0 Test series loss to hosts Australia, India is now preparing for the ODI tri-series, also involving England, starting this Friday.
No matter how disappointing their performance in white clothing is, when they don the colours, India is a different side. It was apparent in the World Cup 2011 following their series defeat in South Africa. A recent example being the tour of England in July-August, when the Mahendra Singh Dhoni-led side bounced back in the ODIs after being humiliated by Alastair Cook & Co in Tests. Indians outplayed the hosts 3-1.
The following series against West Indies played out predictably when barring their first game, Dhoni & Co got the better of their opponents twice in the bilateral ODI series, before the visitors decided to pull out of Tests due to row over payment.
When their replacement Sri Lanka arrived, it was no different. They could not match up to India's strong one-day team. In one of the games, Rohit Sharma, on his return from a long injury lay-off, went on to score his second double ton and the the highest ODI score ever — 264. These outcomes only reaffirm India's supremacy in the limited overs cricket.
With the World Cup coming up in Australia-New Zealand next month, the performances in the tri-series will play a huge role in building the confidence of the team and warm them up for the big challenge.
"One day cricket is a different ball game. It suits our boys more than Tests. Different field placements, bowling attacks and Powerplays," said Anshuman Gaekwad, former India cricketer and member of 1983 World Cup-winning squad.
"Unlike in Tests, where they have to be attacking, Indian bowlers are effective in one-dayers because they look to save runs and not send batsmen back to pavilion. In the bargain, they get wickets which is fine. Playing defensive suits Indian bowlers," said Gaekwad.
However, Gaekwad is worried about India's inconsistent batting line-up. "We have a very good batting line-up but what we lack is consistency. Barring a couple of guys in the top order, rest of them are inconsistent. If we are consistent more results will come our way," he said.
Lalchand Rajput, who was the coach-cum-manager of the Indian team when India won the VB Series for the first time in 2007-08, said Dhoni is master leader in the ODIs.
"He is a fast thinker. In Tests you require patience and time, but in ODIs and T20s, you have to think quickly. He brain works faster while making field placements changes in batting orders, bowling and other stuff," said Rajput.
"We are the best one day unit with a strong batting, bowling and a fielding side. The recent Tests series was not bad as they fought fire with fire, but the defeat will only give them more fire and a reason to win," he added.
Rajput felt that winning the tri-series was important given it precedes the biggest cricket tournament. "A win here can give you a lot of confidence going into the World Cup," said Rajput.
And if recent turnarounds after dismal Tests are any indication, India is ready for the Blues.
INDIA'S RECENT ODI WINS
Beat England 3-1 (away)
Beat West Indies 2-1 (home)*
Beat Sri Lanka 5-0 (home)
TRI-SERIES ITINERARY
Australia vs England in Sydney (Friday, January 16)
Australia vs India in Melbourne (Sunday, January 18)
England vs India in Brisbane (Tuesday, January 20)
Australia vs England in Hobart (Friday, January 23)
Australia vs India in Sydney, Monday (January 26)
England vs India in Perth (Friday, January 30)
Final in Perth (Sunday, February 1)
For More update Please visit
http://uversenews.blogspot.in