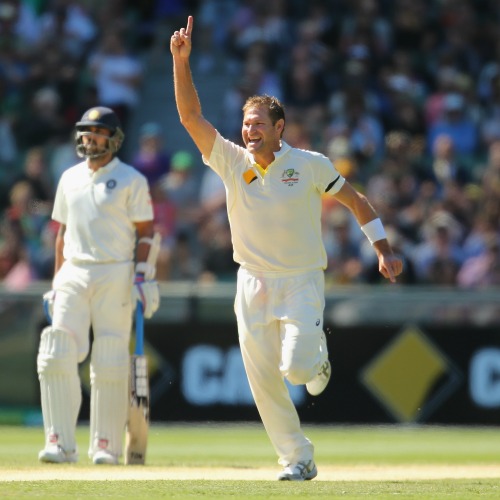 Australia fast bowler Ryan Harris has joined teammate Mitchell Johnson in criticising the unusually slow and low nature of pitches in the ongoing cricket Test series against India, saying the pacers have had to work much harder than the last Ashes summer to get the batsmen out.
Harris has shown his frustration over batting friendly pitches despite Australia being 2-0 up in the four-match series with the Boxing Day Test ending in a draw.
"I don't think the wickets have been as fast and bouncy.
Obviously we have got results in two of the Test matches. But again as a bowling group we are always going to say we want a bit more bounce and grass. That goes with out saying," Harris told reporters at the Sydney Cricket Ground ahead of the fourth and final Test starting here on Tuesday.
The in-form pacer could not help missing the pace and bounce of wickets used in Australia's 5-0 whitewash of England last summer.
"That is what we (pace and bounce) had last year and that is where he (Johnson) excelled. Going on last year (Johnson) was able to do that because (of) obviously what Sidds (Peter Siddle) and I were doing but also the pace in the wickets. But not having that there is probably a little bit frustrating.
"In saying that we have had two results and nearly got a result in Melbourne. It is hard to fully criticise the wickets but I must admit it has been a lot harder than it was last year. Test cricket is always going to be hard - I am not saying we should get ridiculous bouncy wickets. But we go to India and get absolute shockers over there so it would be nice to get some green tops over here," said the burly speedster.